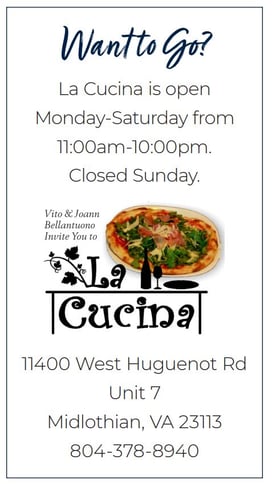 By Brandy Centolanza

When it comes to authentic Italian cuisine, Vito Bellantuono, owner of La Cucina Ristorante Italiano & Pizzeria in Midlothian, takes things seriously. Vito, a native of Italy, has been working hard the past nine years to provide his customers with the best Italian dishes out there.

"We are trying to strike that balance between American Italian food and true Italian food," Vito said. "We are
always trying new flavors. Our goal is to introduce our customers to different ingredients and to expand their palates."
Vito co-owns La Cucina, which means "the kitchen" in Italian, with his wife, Joann. The restaurant is located at The Shoppes at Bellgrade on West Huguenot Road. Though he's owned La Cucina since 2010, he's been in the
restaurant industry his whole life.
Vito was born in Italy and migrated to the United States in 1973. His father's entire family was involved in the
restaurant business in Brooklyn, NY, and Vito started working at a young age. He began by serving slices of pizza and washing dishes, which evolved into working in the kitchen and meal prepping.
"It was just a natural progression," Vito said. "Being a part of this business just became a part of my life." Vito made his way to the Richmond area in 1995, where he opened an Italian restaurant with his brother-in-law. The duo later opened the restaurant Chianti on Gaskins Road. Eventually, Vito sold his half of Chianti to his brother-in-law when he and Joann decided to open La Cucina.
La Cucina serves traditional Italian food such as pizza and pasta including manicotti, ravioli, cannelloni, and
lasagna as well as original dishes that Vito creates on a weekly basis. "We pride ourselves on our fish and
veal," he said. "We have three different specials every week: a fish, a protein, and a pasta."
La Cucina's signature pasta dish is pasta Michaelangelo with chicken, shrimp, sausage, red peppers, and
artichoke in a light pink sauce. Other top sellers are the pasta Bolognese served with a meat sauce made with ground veal, beef, pork, and a hint of cream as well as the seared salmon in a lemon caper sauce. The veal and
chicken Marsala entrees are also popular. The restaurant offers roughly half a dozen different veal and chicken dinner entrees.

Vito operates in the kitchen while Joann is responsible for the front of the house. Nearly everything is made
in-house at La Cucina, from the bread to the sauces and dressings. Vito is constantly finding inspiration for his meal selections, even traveling back to Italy for ideas. Customers also rave about his soups.
"Our food is seasonal, and tends to be more hearty in the winter," he said. "In the summer, I will use a lot more fruit. Right now, I am making a lot of soups. I try not to make the same soup more than twice a year."
Vito has recipes for more than 100 soups. His wife's favorite is the chicken gnocchi soup. "Cooking is like handwriting: everyone has their own signature," Vito said. "I like creating and experimenting in the kitchen and finding out what works and what doesn't."

Patrons can eat in the dining room or al fresco on the patio during warmer weather. At La Cucina, Vito and Joann strive to meet the needs of every customer.
"Everything is made to order," Vito said. "We want to give people a good quality meal and experience at a fair price. We want to make sure everything is right from the moment you place your order to the presentation of the food on your plate to serving you the meal.
Consistency is key to the craft. We don't compromise on the quality of the food." Vito and Joann have had loyal customers through the years, some whom come routinely to eat and have watched their two boys grow up. "It's like they've become a part of our family, and that's very rewarding," Joann said. "It's great to hear people say that this is the best food that they've had in a long time. Satisfying our customers is what it is all about.