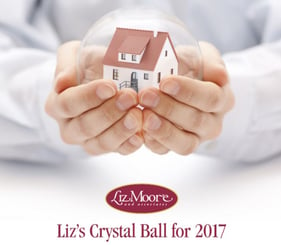 2016 was a solid year for local real estate. Here on the Peninsula, closed sales finished up
9.5% for the year, with pending sales up just under 10% in December, which is activity higher
than we typically see during the holidays. The New Year has started off with a bang, which I
believe is indicative of another strong year for our market.

We are entering 2017 with only slightly over 5 months of active inventory, and homes selling,
on average, in only 97 days. That is good news for sellers who are priced properly and in good
condition. The exception here is the luxury market, where sellers need to be significantly
more patient – there is currently 10 months of inventory priced at $750,000 and up.
Prices remained remarkably steady during the past 12 months, with the median sales price on
the Peninsula hovering right around $180,000 for most of the year.

Here is what I see in the coming 12 months:

Consumer confidence has been our biggest challenge in recent years, especially
during the contentious presidential election. With that behind us, activity levels have
definitely regained momentum.

My expectation is that there are many sellers who have been waiting for more favorable
market conditions to list – and that should begin to happen as we move toward Spring.
We saw a 30% jump in new listings in December, signaling that wise sellers recognize the
importance of beating the competition to the Spring market.

As prices begin an inevitable rise, consumers will realize that moves need to be made ASAP
in order to take advantage of a 7 year streak of historically low rates and home values. It's
important to note that the market can shift quickly, and the pendulum is likely to continue its
swing toward lower inventory levels, creating a more competitive environment than we've seen
in recent years.

Interest rates will begin a slow and steady climb this year.
Interest rates began their inevitable ascent in the final quarter of 2016, and we are expecting at least 2 more increases in 2017, according to our friends in the mortgage industry. The good news is that this is a sure sign of a strengthening economy, but the bad news is that each hike raises the bar on home affordability. My prediction is that this will add some urgency to the market this year, particularly in the lower price ranges.

We recently got some great news for home buyers as FHA lowered mortgage insurance premiums, and Fannie Mae and Freddie Mac are now offering low down payment mortgage products (3%) in order to compete with their government counterparts. That, combined with underwriting restrictions which are finally beginning to ease, should encourage first time buyer activity that has been priced out of the market.

Prices will finally begin to show improvement in many neighborhoods.
Prices are neighborhood specific, and some areas are definitely improving faster than others. I expect the market to continue to trend toward more normal appreciation rates in 2017 and beyond.

My overall message here remains the same as last year: If a home purchase is on your New Year resolution list, buy early in the year, as interest rates have a much greater impact than most realize. For instance, waiting for prices to drop 5% to save $12,500 on a $250,000 purchase may cost you an extra $225 per month in payments; if rates increase from 4% to 5.5%, then your payment increases from $1194 to $1419. For most buyers, the affordability index of monthly payments is a more critical consideration.

Your support and referrals are much appreciated, and we promise to deliver the extraordinary client experience that has become our hallmark!

*All stats based on Broker Metrics for REIN Area 101-113 residential home sales in 2016.
If you're a seller who has been wondering if it might finally be time to sell, email us at concierge@lizmoore.com, or click below, and we can prepare a complimentary analysis of market value for you – you just may be pleasantly surprised.
Are you interested in hot real estate topics, tips and trends?
Click below to subscribe to our blog!