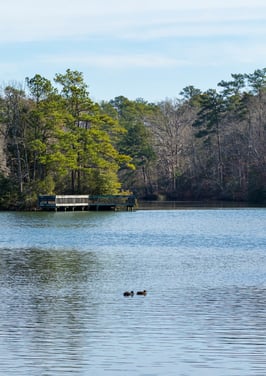 The Noland Trail, one of the most beautiful spots in Newport News, Virginia, celebrated its 30th birthday on October 26th, 2021.
Following the shoreline of The Mariners' Lake, which is part of Mariners' Park, is the five-mile Noland Trail. Dedicated as a gift from the Noland Family in 1991 and with significant ongoing financial support from the Noland Family, the trail has 14 bridges, picnic areas, benches, and mile markers. Each fall, The Mariners' Museum hosts a Park celebration that includes the Noland Trail 50K and Relay and a family-friendly fall festival.
Mariners' Park is one of the nation's largest privately owned and maintained parks that is free and open to the public.
Park and Trail Hours:
OPEN DAILY
Hours: 6 a.m. - 7 p.m.
Closed Thanksgiving and Christmas Day