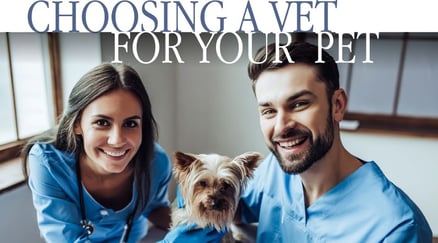 Your pets are beloved members of your family and you want to make sure they receive the very best medical care. But how do you choose the right vet for your pet? We've outlined some important considerations below when selecting a veterinary practice for your fur baby.
Communication is Key
Ask your friends, family, and neighbors who they recommend. People with first-hand experience are great sources of information and someone who has had a great experience is eager to sing the praises of their veterinarian.
Responsive
Call potential veterinary practices: Do they answer the phone, or if not, do they return your call promptly? Is someone available to answer your questions? Can you easily get an appointment? Are you able to call and check on your pet frequently if they are having a procedure? You want to choose an office that communicates well with their clients.
Philosophies
Ask the veterinarian about their philosophies on pet health care. A few topics to discuss are euthanasia, cancer care, chronic disease planning, and spaying and neutering. Do they mesh with your own? Having a care giver with like­minded philosophies will help when faced with difficult decisions. Observe how they react and respond to your specific questions. Does this seem like someone with whom you'll be able to communicate and trust?
Take a Tour
A good office or hospital is proud of their facility and should be willing to give prospective clients a tour of their facility. Check the cleanliness of exam rooms, check out their medical equipment, do they have access to x-ray, ultrasound, dentistry, labs, and the like? Also, be sure to inquire about health care specific to your pet and any special care they might require.
Interaction
Introduce your pet to your potential veterinarian and their staff long before your first appointment. Observe how everyone interacts with you and your pet. Are they welcoming, calm, and attentive to you both? Observe how your pet responds to them as well. Choosing a warm and caring practice can soothe a stressful situation for your pet.
Location and Hours
This isn't as important as good, solid care, but convenience is a factor to consider. Choose a vet you can access in a reasonable amount of time, and with hours chat work with your schedule. Choosing a wonderful practice that you can never get to won't do anyone any good.
Busier Can Mean Better
Don't be put off by a busy waiting area. A crowded, fast paced waiting area can be signs of a great, well-liked, hardworking practice.
Money Matters
Vet bills can add up quickly. Be sure to ask about costs of routine care like office visits and vaccines and ask about emergency services like x-ray.