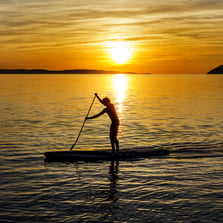 Looking for a great workout with an even better view? Sunset Paddle Yoga allows you to take your practice outdoors and into nature. After a brief intro to paddleboarding, you'll paddle out and anchor your board. The instructor will guide you through a gentle yoga sequence for all levels. Modifications are given for beginner to advanced. This yoga session happens as the sun is setting allowing the day to just melt away!
Every Monday, Wednesday, Sunday 6:30 - 8:15pm at Chickahominy Riverfront Park through Sept. 15, 2019.
Click here for tickets!