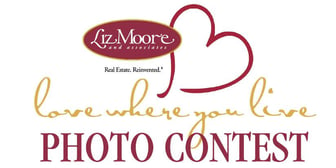 We had so much fun a few years ago with the Liz Moore Love Where You Live Photo Contest that we've decided to do it again!
Who doesn't love to take photos of the things that make them smile? Whether you know your way around a sophisticated camera, or you just enjoying taking photos of your cat with your iPhone, we'd love for you to enter!
Enter photos in categories such as Recreation, Community, Pets, Special Places, and more.
The photo contest will run through October 15, 2018, and at that time we will select the grand prize winners. Over $4,000 in prizes will be awarded including an iPad, Busch Gardens Season Passes, cash, and more! We will also be running "mini contests" each month – stay tuned for details.
Enter as many times as you'd like! Visit lizmoore.com/love to enter and to view our photos entries so far.
Are you interested in hot real estate topics, tips and trends?
Click below to subscribe to our blog!