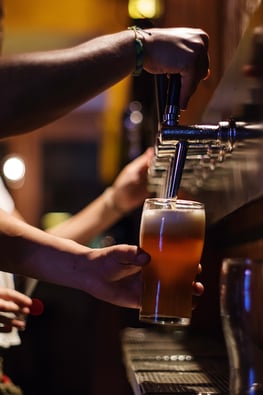 The craft brewery boom has beer lovers everywhere hopped up, and Virginia is no exception.
The Commonwealth boasts 206 breweries, 13th most in the nation. They produced nearly 300,000 barrels of traditional and wildly innovative brews last year. That's part of an explosion that's seen U.S. craft breweries triple in number to more than 5,000 in just five years. Not coincidentally, 2012 is also when Virginia's General Assembly passed Senate Bill 604 allowing breweries to sell beer and their patrons to drink it on-site. That's translated into an amazing 486-percent increase in Virginia breweries.

Craft breweries, though, are so much more than high-ceiling warehouses cranking out lagers, stouts, porters and IPAs with cool labels and catchy names. Craft tasting rooms have become modern cultural centers, warm and welcoming community hubs - family and often dog-friendly - that are fun, vibrant boosts to their town's quality of life. Shadowed by looming stainless steel tanks where the hops, yeast and water join forces, tasting rooms thrive now as special-event venues, trivia parlors, music halls, food-truck and corn hole fests, even yoga studios.
Craft breweries and beer tourism add over $9 billion to Virginia's economy, according to Gov. Terry McAuliffe, who calls Virginia "a premier destination for craft brewers and consumers
from all over the world." Craft brewing is a collegial world in its own right. It thrives on the principal that all who brew are colleagues, not rivals, inspiring each other to greater creativity and beer innovation.
We'll drink to that!
Here are a few favorites for relaxed, beer-savoring good times with friends in Williamsburg, where the Jamestown settlers brewed as far back as 1607:
Alewerks Brewing Company
197 B Ewell Road, Williamsburg
Award-winning brewmaster Geoff Logan has operated this craft-brewing stalwart for the last decade on the site of '90s-era forerunner Williamsburg Brewing Company.
Alewerks features seven year-round beers, including only-on-tap Shorty Time IPA and Good Luck Irish Stout, as well as a long line of seasonal, specialty and limited-edition beers. And befitting its tenure, Alewerks has a prominent presence at local fairs and festivals.
Alewerks recently opened a 3,000-square-foot shop in the Williamsburg Premium Outlets serving 10 beers on tap. Alewerks also has teamed with Colonial Williamsburg to produce specialties such as Dear Old Mum Spiced Ale and Old Stitch Brown Ale from 18th-century English recipes.
Amber Ox Public House
521 Prince George Street, Williamsburg
Founders and longtime friends Chris Cook and Andrew Voss, both restaurant and home-brewing veterans, want Williamsburg's newest brewpub (it opened in December) to maintain "the perfect balance between innovative, Southern-inspired cuisine and an extraordinary offering of regional beers, wines and spirits."
Their chef, Troy Buckley, has devised a down-home menu deep in locally sourced products and highlighted by fried buttermilk chicken and sweet tea brined pork chops.
Amber Ox, with room to seat 180, has 18 draft handles featuring a combination of its own beers and specially selected "guest draughts." Its full bar also serves wine and a tantalizing list of creative cocktails.
Brass Cannon Brewing
5476 Mooretown Road, Williamsburg
Phil Norfolk, Scott Kennedy and Tony Artrip founded Brass Cannon in 2012 in a cramped Toano warehouse, brewing with what they call a "Frankenrig" system of leftover industrial parts. It took a while, but Brass Cannon spread out to its state-of-the-art, 20-barrel facility, painted bright green and gold, in 2016.
Brass Cannon offers five year-round beers including Smoothbore Stout, a gold-medal winner at the 2017 Virginia Craft Beer Cup.
The brewery offers a diverse list of limited release beers, none as unusual as its fan-fave Langrage Line. It's an experimental series of small-batch brews produced by random combinations of, as the owners say, "whatever we feel like using at the time." Langrage beers rotate often and are available only in the tap room.
Virginia Beer Company
401 2nd Street, Williamsburg
College of William & Mary grads Chris Smith and Robby Willey worked in finance before founding Virginia Beer Company in 2016. Brewmaster Jonathan Newman joined them from SweetWater Brewing in Atlanta. They run an inviting tap room and beer garden just down the road from the heart of Colonial Williamsburg.
Virginia Beer keeps a fresh draft rotation, mixing seasonal brews, its New World-style Saison and an array of cask and experimental small-batches with its four popular year-round offerings; Wrenish Rye Amber Ale, Elbow Patches Oatmeal Stout, Free Verse IPA and Saving Daylight Citrus Wheat.
Interested in finding more things to do in and around the Historic Triangle? Subscribe here to our blog as we post ideas frequently. You also can purchase a copy of Liz's recently published book, 101 Reasons to Love Living in the Historic Triangle, in either paperback or e-book version by clicking the button below.
Are you interested in hot real estate topics, tips and trends?
Click below to subscribe to our blog!