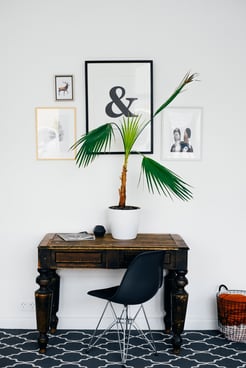 When looking for high quality and unique home furnishings for a great price, consider visiting a consignment shop.
There is a common misconception that consignment is a glorified thrift store, but with high-end, discerning consignment shops becoming more popular, nothing could be further from the truth. The consignment stores featured in this article are known for the high-quality offerings at great prices. Many customers often brag about the great deals they've scored; being able to spot a great deal at a bargain price is a badge of honor for many.

People consign their home furnishing for various reasons, children move in or out, people upgrade or downsize, people move or buy a new home. Life changes all the time and consignment stores are the place to go when your furnishings are too high-end and well-kept for an estate or garage sale. Consigning seeks to strike the balance of a good return for the seller on high-quality pieces and a good deal for the buyer.
Quality consignment shops except only well-cared for furnishings that are attractive, stylish, and will most likely sell. They then arrange the furniture in attractive vignettes and seek to find the valuable pieces new homes. By accepting only the best furnishings and filling their shops with likeminded pieces of similar quality and value, these shops are able to command more value for the furnishings and provide a better return for the seller.
So how does it work? Consignment shops will inspect your potential consignment furnishings in a few different ways, you can show pictures of your pieces, you can bring your smaller items in for review, or you can set an appointment for the shop owner to come to your home to consider larger pieces and collections of furniture. Some shops ask for pictures of your home including your kitchen and bathrooms to gauge your lifestyle and cleanliness, and ensure the piece was in a clean environment before accepting it into their shop. Some shops
even offer pick-up and delivery services for a small fee.
Once a piece is accepted into the shop for sale, the seller and shop owner usually work together to price the item. The initial price is usually reduced somewhere around 15% after the first 30 days if it hasn't sold. After another 30 days, or 60 days from entry into the shop, the piece is reduced another 15% for a total of 30% off the original price. Most shops only agree to keep pieces on their floor for 90 days. After that if your piece hasn't sold you can pick it up or donate it. The shop owners are so discerning that most pieces sell within 30 days of entering their shop.
If your piece does sell, you split the profit with the shop owner. The general industry standard is 50% for each party, but some shops are more generous and give the seller 60% and keep 40% for themselves.
Most shops sell in store only, but a few post pictures and prices of their pieces online and sell items to buyers all over the country.
In these high-end shops you'll find upscale designer home décor, furniture, handmade rugs, and more. Many work with interior designers and sell their staging pieces that are virtually brand new. Shop owners say it's all about getting great inventory and turning it over, that rapid sale breeds more inventory as people get excited their items are selling and bring in more merchandise to sell. This constantly changing inventory attracts more
purchasing clients, many visiting weekly to see what's new.
Shop owners say rustic farmhouse styled pieces are flying out their doors, as stores like Crate & Barrel, Restoration Hardware, and Pottery Barn are currently in vogue. Classic pieces like leather sofas and chairs are always in demand and are usually sold in less than a week. Today's style of mixing and matching sets,
wood tones, and fabrics make consignment shops a great place to update your home's look while staying within budget.
Consignment shops offer good quality home furnishings at a value that benefit both the buyer and seller, as well as the small business owner.
Here are a few of our favorite local consignment shops:
In Williamsburg:
The Vintage Rabbit
240 McLaws Circle
Williamsburg, VA 23185
(757) 903-4083
The Velvet Shoestring
311 2nd St.
Williamsburg, VA 23185
(757) 220-9494
On the Peninsula:
Design & Consign LLC
9961 Warwick Blvd.
Newport News, VA 23601
(757) 223-7707
Phoebus Auction Gallery
18 E Mellen St.
Hampton, VA 23663
(757) 722-9210
Rooms, Blooms & More
10239 Warwick Blvd.
Newport News, VA 23601
(757) 599-9299
In Richmond:
Impulse
419 North Ridge Road
Henrico, VA 23229
(804) 288-7300
Revival
9750 Gayton Rd.
Richmond, VA 23238
(804) 750-2200
Izzie's Consigning with Grace
14300 Midlothian Tpke
Midlothian, Virginia 23113
(804) 378-5005
Great consignment shops...just another reason why we love where we live!