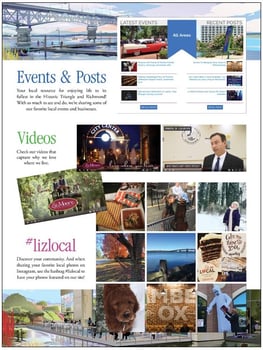 At Liz Moore & Associates, we understand that our role as REALTORS is about far more than selling homes – we connect people to the community that they will call "home."
We are often asked about local events, and to recommend our favorite local businesses and restaurants. So, we decided to create a website dedicated to just that: introducing LizLocal.com! Log on to find information on local events in Richmond, Williamsburg, and on the Peninsula. We'll share the inside scoop on events like the Carytown Food Tour in Richmond, Boathouse Live coming to City Center in Newport News, and special events at Busch Gardens you won't want to miss.
In addition to event info and stories about our favorite local businesses, you'll also find video recommendations for restaurants (including what we like to order!). Do you have a favorite you would like for us to feature? Just let us know at info@lizmoore.com.
You can also tag your photos on instagram with #lizlocal to share them on the site, which is another great way to plug your favorite venues.
And, of course, you can search local real estate listings, subscribe to one or more of our digital real estate magazines, or order an e-version of one of our hyper local books – 101 Reasons to Love Living in RVA or 101 Reasons to Love Living in the Historic Triangle.
Check it out at www.lizlocal.com...Real estate is local – so are we!!