By: Lauren Cummings
Yorktown Presents:
Independence Day Celebration at Yorktown Beach
What better place to celebrate where the U.S. gained independence from Britain than the place it was won? The town's traditional Independence Day Celebration at Yorktown Beach is a full-day event with so much to see and do to celebrate our nation's Independence Day:
8 AM : Start off the day cheering on participants or participating in the Yorktown Independence Day 8k Run/Walk at York High School!
9 AM : The Patriotic Parade begins! The parade will be throughout Water and Main Streets. Find a good spot and enjoy the awesome festive atmosphere and community.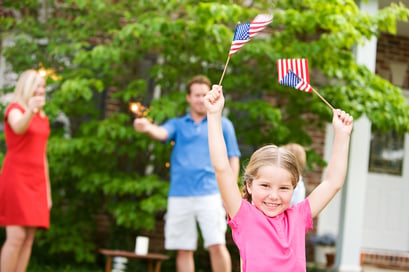 1 PM : Family Games and Kids' Activities at Riverwalk Landing are so much fun for the whole family. There is even a hotdog eating contest!
2 PM : Enjoy a performance by Acoustical Guitarist Phil Poteat at Riverwalk Landing Stage. We love to support local artists! Find him on Instagram: @philpoteatmusic
4 PM : Event Parking Opens at Cook Road and Ballard Street – early bird gets the worm! Parking closes at capacity, however, there are shuttles that will be running for parking further away from the festivities. We want you to have a stress-free experience; check the link below for even more details to prevent any difficulty with parking.
7 PM : The Fifes and Drums of Yorktown Performance and The Reading of the Declaration of Independence Sounds of Liberty Bell Ringing Ceremony is at the Riverwalk Landing Stage. American history buffs and patriotic guests will love this extra-special event!
8 PM : Enjoy more musical performances leading up to the grand firework display! The Super Jazz Band Concert Featuring Conni Ironmonger will be live at the Riverwalk Stage.
9:15 PM : Finally, what we've all been waiting for! Fireworks start at 9:15 PM over the York River. They can be seen from Yorktown Waterfront and Victory Monument.
Click here to check out the full calendar, and discover even more details by clicking "View the 2023 Lineup".
Sources:
"Independence Day Celebration." York County Tourism, VA, visityorktown.org/Calendar.aspx? EID=4034&month=7&year=2023&day=4&calType=0.
Newport News Presents:
4th of July Stars in the Sky
Head over to Victory Landing Park for an evening full of patriotic spirit and festive activities! The kids will enjoy face painting and inflatables, and there is plenty of entertainment for the whole family. You'll get to see live musical performances and keep an eye out for strolling entertainers decked out in red, white, and blue attire!
Come hungry! There will be plenty of all-American food to enjoy such as hamburgers, hot dogs, ribs, snow cones, and more. Grab a free light-up giveaway to light up the crowd as the sun goes down!
Live music will be playing from 7:30 pm to 9:00 pm, followed by a spectacular firework display presented by the internationally award-winning Pyrotecnico! The fireworks will light up the James River and can be seen from the event grounds.
Click here for more event details, directions, and safety restrictions.
Source:
"4th of July Stars in the Sky - Events & Festivals - Newport News Tourism Development Office." 4th of July Stars in the Sky - Events & Festivals - Newport News Tourism Development Office, www.newport-news.org/visitors/events-and-festivals/3304/4th-of-july-stars-in-the-sky/.