By: Lauren Cummings
There is something special about sharing books; the creases from where the previous reader was gripped by the tension of the story, the dog ear folds from where they had to mark their place, or even the little notes they have left behind as they jotted down their thoughts – these qualities don't just add character to the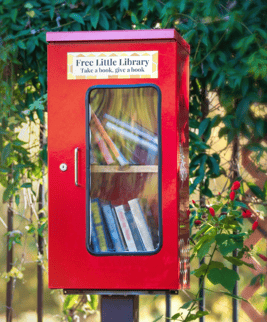 book itself, it creates connections between readers. We may each experience a story differently, but it is up to us to share them.
How It All Started

Todd Bol of Hudson, Wisconsin was inspired by the "take a book, leave a book" projects launched by coffee shops and community buildings. He placed a Free Little Library in front of his residence as a tribute to his mother, who was a schoolteacher with a passion for reading. All it took was a few people to recognize the importance of easy access to books for everyone, and from there, a chain of free little libraries was established across the country. As of 2022, 150,000 mini-libraries have been registered across 115 countries worldwide.
What is a Little Free Library?
Little free libraries are exactly as they sound, and no library card is required. Little free libraries are usually
placed by residents of the community or by volunteers that are passionate about spreading knowledge and
story magic to everyone. These mini libraries symbolize community, inspiration, and support.
How Can You Start One?
Creating your little free library is easier than ever with the help of the non-profit organization behind it all, Little Free Library. This organization has made it possible for people to announce their library to the public and provide access to resources to get noticed by the community.
1. Identify a location and steward
2. Get a library – create one yourself or buy one
on the Little Free Library's online store.
3. Register your library – see the QR code below.
4. Set up your steward account
5. Build community support
Building Inspiration

If you want to get creative and don't want to purchase a mini-library from the online store, there are plenty
of resourceful ways to create a mini-library. We have seen people convert old microwaves into mini-libraries, small dog houses, storage bins, and even an old cabinet. The one thing to consider is if the structure is
weather-proof material so no books are ruined; a door is ideal for this requirement.
Register your library or find one near you at www.littlefreelibrary.org.