By: Lauren Cummings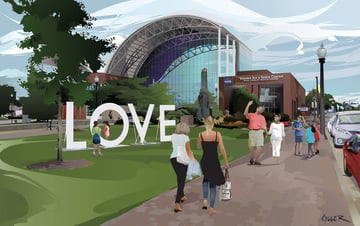 Plan your weekend trip to Virginia's Peninsula with a thought-out itinerary from local insiders. We love sharing the beauty of our hometown, and we are so excited to show you why we love where we live!
Book Your Stay
Book your stay at one of our most-trusted favorites.
The Lodge at Kiln Creek is an upscale boutique hotel and resort that offers luxury and comfort. It is conveniently located in Newport News and is on the border of York County. You will be in proximity to various attractions and restaurants – more than likely, what you have planned for the weekend will be within a 20-minute drive from the resort.
For a great location on Yorktown Beach, book your stay at Yorktown Beach Hotel. You will be staying on the water with a beautiful view and will be within walking distance of all the restaurants and attractions Yorktown Beach and Yorktown Battlefield has to offer.
Rise & Shine
Start your day with a morning stroll before you refuel at a local coffee and brunch spot.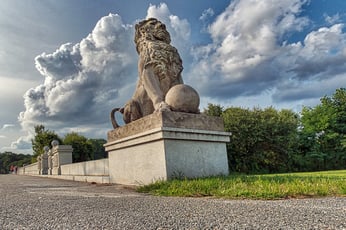 The Noland Trail is a beautiful lakeside walking trail. You will likely see local wildlife that live peacefully in the water and nearby woodlands – birds, turtles, and even deer may be spotted! The full trail is 5 miles long and is divided into shorter trails if you are looking for a shorter morning stroll.
Find which path best suits your interests at marinersmuseum.org/park/noland-trail/
Mobjack Coffee Roasters and Petite Café is located in the heart of Historic Yorktown Village. If you're staying in Yorktown, this is the place to go for a coffee in the morning! The charming coffee spot serves treats and sweets, imported roasts, and also offers coffee beans for purchase if you find that you would like to take a piece of Yorktown home with you.
If you are staying in Newport News, it's worth stopping by Café Full Circle. This coffee and breakfast spot offers locally roasted coffee, brunch all day, and pressed juice and smoothies. It has a clean, calming atmosphere and has something for everyone.
What to Do and Where to Go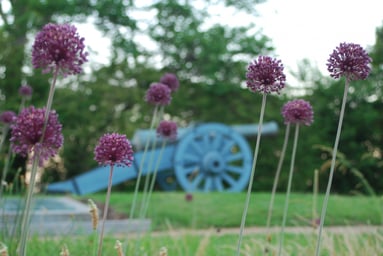 There is something for everyone to enjoy on the Peninsula - all within a 20-minute drive from your resort.
As one point of the Historic Triangle, the Yorktown Battlefield is full of historical sights. It is nestled along the York River and is a great spot to spend the day on the water. Have lunch at Yorktown Pub, Waterstreet Grill, or Carrot Tree Kitchen. For dessert, Ben and Jerry's is conveniently located between these dining spots. In the warm seasons, there are special themed markets to browse and shop from 8:00 am to 12:00 pm on Saturdays.
Check which market is scheduled for your visit: visityorktown.org/225/Market-Days
Hampton Coliseum is a multipurpose arena, hosting a variety of shows and events. It is worth checking their website to see which shows are offered during your visit! There are a variety of shows that are booked at the Hampton Coliseum, including the popular Hampton Jazz Festival.
Check out which events are scheduled during your stay at hamptoncoliseum.org/events.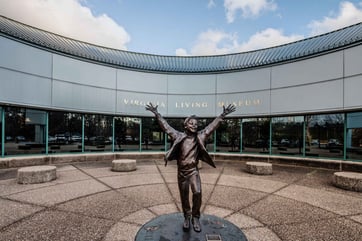 The Virginia Living Museum is a great spot for a fun date or a day for the family. This museum is a sanctuary for some of Virginia's precious wildlife such as otters, foxes, coyotes, raccoons, bobcats, deer, and the endangered red wolves. There are a variety of species to observe and discover – amphibians, birds, reptiles, and more!
Plan your visit: thevlm.org/your-visit/
Explore space at the Virginia Air & Space Science Center, also serving as the visitors center for NASA's Langley Research Center and Langley Air Force Base. The kids are sure to have a fun time with the hands-on exhibits, and those of all ages that love aircraft history are in for a treat! The museum is also home to the IMAX theater, offering a variety of shows that range from educational to pure entertainment.
Purchase your tickets here: https://vasc.org/tickets/
Farmers Markets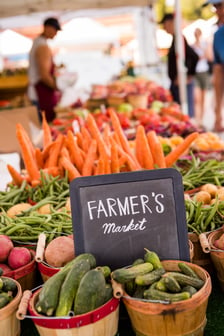 Take a piece of the peninsula home with you by visiting one of our local farmers markets!
The Farmers Market in Hilton Village, Newport News is year-round and offers a variety of local vendors. Listen to live music and browse locally grown produce, flowers, handmade items, and so much more! You will feel the strong sense of community while attending and will more than likely find something you love to bring home with you. Stop by during your stay from 9-12 pm on Saturday.
In addition to the special markets in Yorktown, the Yorktown
Market Days opens on Saturdays April 8th to Sept. 30th from 8-12 pm, and Oct. 1 to Nov. 28th from 9-12 pm. Shop for seasonal produce, fresh seafood, handmade items, and enjoy live entertainment from local artists.
Wine & Dine
Sipping on local wines and exploring new flavors – what could be better for a wine lover?
Vintner's Cellar Winery of Yorktown offers personal wine events and tastings. The urban winery is a destination in Yorktown to not only taste local fruit-fusion wines, but also learn about winemaking and custom wines. The winery takes reservations for daily tasting events, so check their website and RSVP for a personalized wine-tasting experience.
You can RSVP here: vintnerscellaryorktown.com/events
The family-owned Hampton Roads Winery is in the beautiful rural area of Elberon, just south of Surry, across the James River from Jamestown. The peaceful and secluded winery is a destination for wine tasters and those who are seeking a beautiful view. The tasting bar is open from 11:30 am to 6:00 pm, Thursday through Monday.
Check their website to see if they are hosting a sip and paint class during your visit!
Good Eats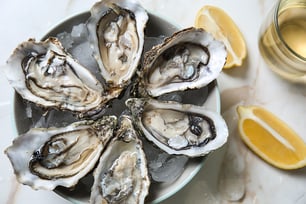 There are plenty of great spots to eat in Hampton Roads, but we have listed a few of our favorites to help you narrow down your choices.
Just over the James River Bridge towards Gloucester, York River Oyster Company offers a beautiful view on the riverside and a menu providing seafood options and American dishes. Their mac and cheese egg rolls are a popular choice or try their fresh oysters with a cold beer on tap. It is worth planning your visit during the sunset with a table on the outside patio.
Fin Seafood is in William Styron Square in Port Warwick, offering seasonal, organic ingredients. Chef Kenny Sloane described the menu as "refined yet robust". The exciting menu extends to the cocktail options. The exceptional service will prove to offer a catered experience during your meal. If you would like to enjoy live entertainment, sit out on the patio with glowing lanterns that offer a superior ambiance.
Along with the southern atmosphere, this County Grill & Smokehouse serves some of the best ribs and barbeque around! The savory sides, corn bread, and drink specials make this a destination for locals and visitors alike. You won't leave hungry!
Nightlife
The day hasn't ended yet! Try out some of our trusted spots for a drink and live entertainment.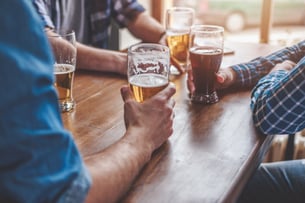 Cozzy's Comedy Club and Tavern is a memorable destination for a night out. Order a delicious meal and enjoy a beverage with live entertainment and stand-up comedy. The comedians put on a great show, and the food is great too!
To buy tickets, visit: https://venue-cozzys-comedy-club-490.seatengine.cloud/events
Tradition Brewing was the first brewery to be established in Newport News and has a reputation as being a local beer destination. Have a drink and relax! Draft beers are offered seasonally, however there are year-round beers that stay consistent. Some year-round draft beers worth mentioning are the Blood Orange Gose, Red Willie, and Tradition Honey Brown Ale.
A Short Drive Away
For even more to do and see during your stay, check out more of our recommendations in Richmond, Williamsburg, and the Northern Neck!
Try any of these spots, or find any worth noting? Let us know at lizmoore.com!