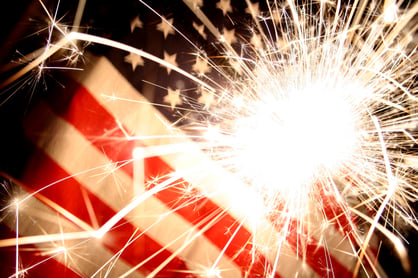 By: Lauren Cummings
It's no surprise that residents from all over Central Virginia travel to Richmond to celebrate Independence Day for epic fireworks, live music, and an array of celebrations. The city has so much to offer, so we've narrowed it down to some of the hottest spots for a wonderful evening celebrating the federal holiday.
Dogwood Dell's Festival of Arts
Dogwood Dell will host a spectacular evening full of live music and a firework show. The event starts on July 4th at 5:00 pm, and it's free to attend! All you need is a lawn chair or picnic blanket to get comfortable on the lawn to enjoy the live music, and you will have a gorgeous view of the firework show that starts after the sun sets.
The Diamond
Calling all baseball fans: What better way to celebrate American culture than attending a baseball game with front-row seats, that concludes with a spectacular fireworks display? Get your tickets and cheer on Richmond's Flying Squirrels as they play against the Bowie Baysox – it will be an exciting game, and an even more exciting ending filled with dazzling fireworks. Tickets are selling fast – it's guaranteed to be a lively night of celebration!
Fourth of July Fireworks at Kings Dominion
For a truly epic fireworks display, spend the day at Kings Dominion on July 4thth. After a day filled with thrilling coasters and splashing around in Soak City, this firework display is the perfect way to end a day filled with fun memories. The best view in the park will be on International Street at the Eiffel Tower, although the fireworks can be seen at various points throughout the park.
Sources:
Hammond, Kassidy. "List: Best Places to Watch Fourth of July Fireworks in Richmond, Central Virginia." WRIC ABC 8News, 21 June 2023, www.wric.com/news/virginia-news/list-best-places-to-watch-fourth-of-july-fireworks-in-richmond-central-virginia/.
VisitRichmondVA. "Fun 4th of July Festivities in RVA." Richmond Region Tourism, 21 June 2023, www.visitrichmondva.com/blog/post/fun-rva-festivities-for-the-4th-of-july/