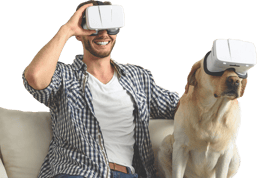 At Liz Moore & Associates, we understand how to leverage technology to deliver an extraordinary real estate experience to our clients. We've made a significant investment in groundbreaking Matterport technology, so that prospective homebuyers can have an immersive online experience, giving them a true sense of the feeling of our listings before they ever visit in person.
What are the benefits to Buyers?
Navigate a property like a video game with Inside View and see how each room fits together using Dollhouse View. Understand layout in a glance with the top down Floorplan View.
What are the benefits to Sellers?
Being able to offer a compelling online experience to buyers who are outside the market enables us to create immediate, lasting emotional connections to our listings because they can experience it as though they were really there. The 3D images are easy to share, so anyone with a computer or mobile device can have the open house experience from anywhere.
For more information or to tour one of our listings in 3D, visit www.lizmoore.com/VR.