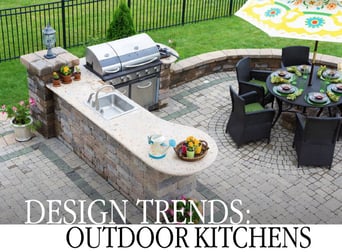 Grilling is great but preparing and cooking your entire meal outdoors is even better! Outdoor kitchens are trending, here's what you need to know to create an outdoor kitchen of your own.
Outdoor kitchens are growing in popularity as homeowners seek to add value to their homes by creating more functional space, like an outdoor kitchen. Kitchens have become the hub of the home and outdoor kitchens are an extension of that trend where the family can gather outdoors.
Outdoor kitchens allow for prepping, cooking, enjoying, and cleaning up to happen in one place outdoors, no more trips back and forth from the kitchen to the patio. With outdoor kitchens, everything you need is outside, so you can enjoy your gathering as much as everyone else is.
Cooking outdoors also reduces the heat indoors. Stovetops and ovens can make your home uncomfortably warm and make your air conditioning system work even harder. Shifting some meals to outdoor kitchens allows for lower cooling costs and increased comfort in your home.
Some kitchen features are easier to add to outdoor kitchens than they would be to an interior kitchen. If water features, fire pits, or even a pizza/baking oven are things you'd like to enjoy, your best bet is putting them outdoors.
Outdoor kitchens can include elements like grills, side burners, sinks, refrigerators, food prep stations and counters, drawers and storage spaces, griddles, bar and beverage centers, trash and towel drawers, vent hoods, stone ovens, and more.
Traditional outdoor kitchens are comprised of a masonry base tied in to the style and exterior of your home with either brick or stone.
Contemporary outdoor kitchens are characterized by sleek lines and polished finishes like granite and stainless steel.
Whatever your style and preference, there are endless options to customize your outdoor kitchen and make this extension of your home your new favorite spot.
Are you interested in hot real estate topics, tips and trends?
Click below to subscribe to our blog!