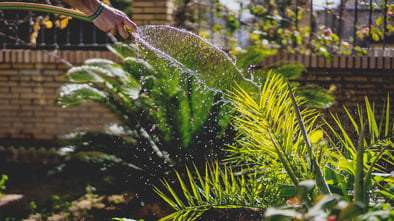 Whether moving into a new home, selling your home, or maintaining your existing home, landscaping can add wow-factor and curb appeal to every home. It can often be overwhelming and confusing, so we've outlined a few tips and tricks from the pros.
Start with a plan
Create a drawing of your yard and plot out your master plan for your landscape. This may look intimidating, but just work in phases or sections focusing on small projects that are part of a bigger picture. This will help keep your budget in check and keep the project moving along as well as provide you with a sense of accomplishment and confidence.
So how do you design your landscape?
Make a list
Before designing your landscape, consider a few questions- Do you have children that will play in your backyard and how much space do they need? Do you want to grow vegetables or fruit? How much time and motivation do you have to devote to maintenance? Do you have rabbits or deer that are eager to munch on your new landscape? Answering these questions first will help you define your needs and wants in a practical way, and second help you select plants and flowers that will perform best in your yard.
Study the natural lighting
It's important to know how much sun the area you're landscaping gets, and not only how much, but what time of day the sun is on that area. Many plants and flowers have very specific sunlight needs and tolerances that must be taken into account when designing your landscaping. For example, afternoon sun is much hotter and tougher on plants and flowers than morning sun. If you have an area that gets afternoon sun, it would be wise to choose heat-tolerant flowers like hibiscus and lantana, these will tolerate high temperatures and dry conditions while still providing vibrant color.
Study the wind
Wind whistling around the corner of your home will quickly extinguish a fire pit. By studying your landscape's wind patterns you can decide the best place for your fire pit or outdoor fireplace if you choose to include one.
Design around a focal point
Any good garden design has a focal point, or series of focal points, whether it's a statue, fountain, fire pit, stunning tree, or beautiful series of shrubs or flowers. The point is to draw the eye and move it through the landscape design.
Scale and pace
This is the most difficult element in landscaping design, but scale and pace give your landscape a cohesive look. Using variations in size, shape and color will lead people through the space. Place tall plants and shrubs in the back or up against a building, and then medium size, and finally ground cover in the front. Repeat some elements, whether it's a certain plant, common color, or shape, to add a sense of cohesion. But to avoid monotony, add an occasional element that's different but still complements.
Design for all seasons
When planning your landscape, include elements that will wow in various seasons, so your landscape always looks appealing. For example, include perennials like an evergreen that produces berries in winter along with spring blooming bulbs and summer blooming bushes paired with inexpensive annuals for every season. This is a great way to ensure there is always something beautiful in your landscape.
Get Edgy
Edging creates a defined, finished look to your landscaping including your flower beds, driveways and walkways. You can use brick, stone, or natural material like plants. Natural edges are especially beautiful and form the lowest tier of your landscaping design. Low-maintenance perennial plants are ideal for this job like hostas or annuals like impatiens in shady spots, or perennial yellow alyssum flowers or annual zinnias in full sun locations.
The art of the disguise
Design ways to hide your AC unit and trash cans. These things are necessary but can be quite the eyesore. Build lattice around your unit or cans and have ivy or climbing summer blooms like clematis or mandevilla decorate it, or plant shrubs to hide both.
Make paths for high traffic
Pavers, gravel, pebbles, bricks, and more material are popular choices to build pathways through your landscape for high traffic areas. This will protect your lawn and add visual interest at the same time.
Light it up
Landscape lighting is aesthetically pleasing as well as a safety feature making sure paths and features are visible after sunset. Twinkle lights in trellises or strung in ornamental trees can add beauty and whimsy, while path lighting leads the eye through the landscape and has many designs and options to choose from including solar lights!
The most important thing to remember is to be patient and flexible. Your landscape project is not a 3-day HGTV makeover, those shows have crews of 60 or more skilled workers and professional designers with years of experience. Take it slow and accept that some changes might need to be made season to season and year to year until you get your landscape just right. It's a process, get outside and enjoy it!
Are you interested in hot real estate topics, tips and trends?
Click below to subscribe to our blog!