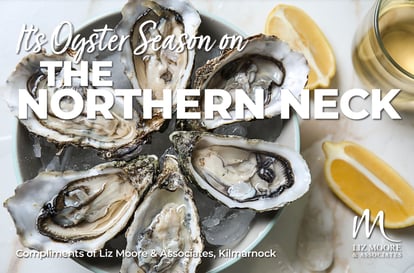 One of the many reasons to #lovewhereyoulive on Virginia's Northern Neck or the surrounding areas is local oysters...and it's currently oyster season!
Oysters are a cold-weather food, meant to come from water so frigid only the salt stops the ice from forming. , that is September - April.
From salty to sweet, buttery to briny, Virginia's oysters taste just like the waters they came from– whether it's the mighty Rappahannock, the Chesapeake Bay, or the Atlantic Ocean.
These tiny yet tasty delicacies can be served raw, steamed, baked, fried, roasted…there really is no wrong way to cook oysters!
Here are our favorite ways to top an oyster:
Sweet Chili Oysters
Fill each oyster on the half shell with 1 tsp grated parmesan, then top with 1 tsp sweet chili sauce.
Grill at medium heat until cheese melts.
Mignonette Sauce
Combine 1 minced shallot, 1/2 tsp black pepper, 1/2 c champagne vinegar.
Serve alongside raw oysters.
Oysters with Classic Tartar
Whisk 1 c mayo, 1 c chopped dill pickles, 1 tsp parsley, 1 tsp lemon juice, 1 tsp sugar, 1/4 tsp pepper.
Serve alongside raw, roasted, or fried oysters.