By: Lauren Cummings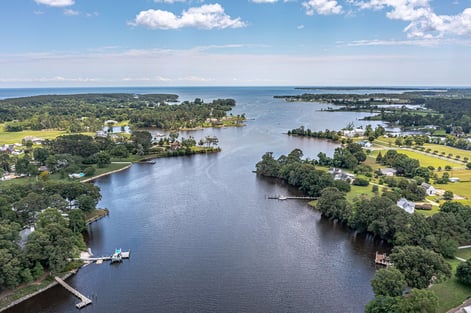 Plan your weekend trip to Virginia's Northern Neck with a thought-out itinerary from local insiders. We love sharing the beauty of our hometown, and we are so excited to show you why we love where we live!
Where to Stay
The Kilmarnock Inn is a collection of eight cottages that offer a private bath, balcony or deck, and free Wi-Fi. Three of which are pet friendly, so if you are considering bringing your fur baby along, you will be covered! The three-course breakfast is served daily and includes selections from the resort garden. This is a destination for those seeking a high-end yet homey feel for their vacation.
For a luxury stay on the Chesapeake Bay, look no further than The Tides Inn. You will be on a beautiful stretch of water, connecting you to the beautiful nature that Virginia has to offer. You can choose to stay in a Resort View or Water View room or suite. You may not want to ever leave during your stay – as this resort offers plenty to do, such as relaxing by the beach or marina or joining the inn's art class.
Rise & Shine
Before your full day of plans, it's important to fuel up on caffeine and a nice breakfast. We know just the spot!
The Local is the Northern Neck's home for coffee! It not only serves a crafted cup of coffee by Richmond's Ironclad Coffee Roasters, but it also serves as a social spot for the community. Grab a breakfast sandwich or panini when you stop by! The menu has a variety of tasty meals, and the outdoor seating is perfect to enjoy during the warmer months.
What to Do & Where to Go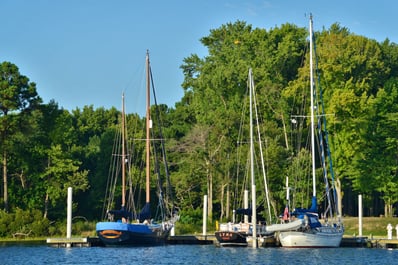 Enjoy the natural beauty, rich history, and vibrant waterfront lifestyle that the Northern Neck of Virginia has to offer. Get outdoors, dive into American and local history, or have a family night of fun!
Westmoreland State Park is a beautiful and diverse natural park located in Westmoreland County. Visit the park for hiking, fishing, camping, and boating! You will have a lovely panoramic view of the Potomac River with beach access. This is a great spot for camping as a campground with 133 campsites, cabins, and a group lodge.
Head over to Irvington to discover the Steamboat Era Museum for an unforgettable experience for visitors of all ages. This is a must-visit destination for anyone interested in the history and technology of steamboats, as well as the rich cultural heritage of the Chesapeake Bay region. See artifacts up close, such as engines, boilers, and more! Take a guided tour and learn even more interesting facts and details about the steamboat era.
The Reedville Fisherman's Museum is another awesome destination for those interested in the history of boating and fishing. Located in the small fishing village of Reedville, this museum is dedicated to preserving the history and legacy of the local fishing industry. Learn about the important role of fishing in the local economy and way of life with engaging exhibits and displays!
For a family night of fun, visit the Compass Entertainment Complex is a state-of-the-art entertainment complex. The complex features a multi-screen luxury boutique movie theater and nine more attractions including an arcade, indoor adventure course, climbing walls, go-karts, mini-golf, and full-service restaurant and bar. This is a great spot for the kids to burn off some energy, making memories filled with fun and play!
Wine & Dine
The northern neck is the heart of Virginia's wine country. Don't forget to add these spots to your trip itinerary! For even more wine stops, check out the Chesapeake Bar Wine Trail that encompasses the region: https://chesapeakebaywinetrail.com/
Good Luck Cellars
"Luck is in the WINE of the beholder" is Good Luck Cellars motto! Enjoy a wine flight, by the glass, or a full bottle in the covered outdoor seating area or the indoor tasting room. This vineyard has the perfect location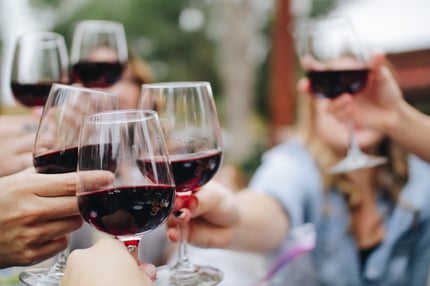 for scenic views of a beautiful backdrop and getting away from the hustle and bustle of busy life. Check out which food trucks and events are going on during the date of your planned visit: https://www.goodluckcellars.com/events
Dog & Oyster Micro-Vineyard is a charming winery in Irvington – a gem in Virginia's wine country. If you love dogs and wine, this should be on your list of stops during your stay! The owners, inspired by their love for their canine companions and the region's famous Chesapeake Bay oysters, created a delightful combination of the two in their establishment. The vineyard is a relatively small size, allowing for a more personalized and immersive experience for visitors.
Relax at a beautiful private cove and enjoy charcuterie paired with wine, beer, or cider at Jacey Vineyards. Head over on a Friday for live music and specials. Enjoy tastings, wine by glass or bottle, and great food paired with views of wooded forests, a scenic waterfront, and lush vines. You can even arrive at the cove by boat if you'd like. For those who prefer to arrive on land, don't fret – there's parking!
Good Eats
This Office is a café, bistro, and bar in Irvington that offers comfortable, lively American dining. The casual atmosphere extends to the seasonal patio seating, and the impressive menu pairs with the comfortable ambiance. They incorporate the freshest local ingredients across a variety of cuisines. This is a full-service restaurant, and you are sure to have a high level of gracious, southern hospitality during your visit!
The Crazy Crab is a locally owned casual spot in Reedville. The impressive Chef has 20 years of experience under their belt cooking in the finest restaurants, so expect your meal to be carefully crafted and highly satisfactory. The Crazy Crab takes pride in providing guests with a top-notch dining experience, and therefore offer fresh ingredients from local, seasonal farmers markets. You can be sure you are receiving the best of the season!
For a unique, coastal dining experience, visit Adrift in White Stone. The menu changes each day based on locally sourced and fresh ingredients. This spot is known for its refined plates and great wine. Locals and visitors indulge in a memorable dining experience where the staff is friendly, attentive, and knowledgeable. This spot is, "Virginia through and through," providing the delicacies that the state has to offer through native wines and ingredients.
A Short Drive Away
For even more to do and see during your stay, check out more of our recommendations in Williamsburg, the Peninsula, and Richmond!
Try any of these spots, or find any worth noting? Let us know at lizmoore.com!