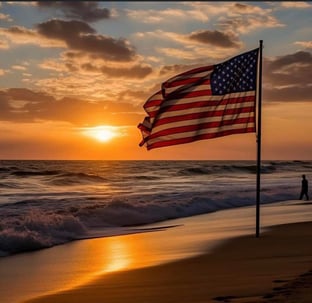 By: Lauren Cummings
Plan your weekend trip to Virginia Beach, Virginia with a thought-out itinerary from local insiders. We love sharing the beauty of our coastal hometown, and we are so excited to show you why we love where we live!
A weekend in Virginia Beach offers a blend of relaxation, outdoor adventures, delicious cuisine, and oceanic charm.
Book Your Stay
Book your stay in Virginia Beach at one of our most-trusted favorites.
If you are looking for luxury all the way around, The Cavalier Virginia Beach should be at the top of your list of places to stay. Set atop one of Virginia Beach's highest hilltops overlooking the Atlantic, the historic resort offers unbeatable views of the ocean. Indulge in delicious cuisine among the variety of restaurants and bars within the resort or venture out into town with ease due to its superb location. The opulent spaces and guest rooms alone are nothing short of luxurious elegance. Book your stay at the Cavalier if you are looking for a pampered experience with elite standards of service.
One of the latest editions to Virginia Beach, Marriott Virginia Beach Oceanfront is a 24-story glass high-rise on the northern end of the boardwalk just down the street from its sister establishment, the Historic Cavalier Hotel. Dine at Orion's Roof, an Asian-fusion restaurant with 360-degree views of the city, and make sure to try Tulu Seaside Bar during your stay for more seaside dining. With direct beach access, technologically integrated rooms, and stunning pools, this hotel will exceed your hospitality expectations.
Frequent visitors of Virginia Beach opt to stay at Hilton Virginia Beach Oceanfront due to its high standards of hospitality, reasonable price point, and perfect location. This hotel is sought-after for its unbeatable location, situated right next to Neptune's Park. The park hosts free concerts throughout the summer; pair it with the rooftop bar that transforms into a club at sundown, and you will have yourself a weekend dedicated to fun and relaxation.
Rise & Shine
Early bird gets the worm! Start your day with an invigorating morning stroll with views of the Oceanfront.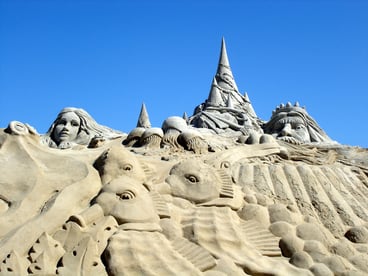 Virginia Beach Boardwalk is undeniably one of the best parts of the city. It stretches for 3 miles, offering plenty of space for walkers and joggers, also featuring a separate bike path for rollerblading or biking. Get your exercise in with a beautiful view of the Atlantic oceanfront, and discover plenty of shops, dining, and activities to do along the way. You may even catch sight of nautical sand sculptures, and even King Neptune on 31st street!
You may crave a coffee and a nice breakfast to re-fuel after your morning activities. We've got you covered!
For a refreshing treat, Green Cat Cafe is a great option for a smoothie, fresh juice, smoothie bowls, and coffee! With health in mind, this café caters toward gluten-free, plant-based, and organic foods, and even offers immunity shots and a wide variety of smoothie boosters.
If you love the feel of a classic bakery, make sure you stop by May's Parlor. This cheery and cozy café offers French American pastries, sandwiches, sweet treats, and of course – coffee and tea. The locals love this café for a reason. You will start planning your next trip to VA Beach just for these pastries alone!
What to Do and Where to Go?
There are a variety of activities that will fill up your itinerary for your stay in Virginia Beach. Even as a local, these never get old!
Good Eats
Decisions, decisions. Choosing a place to eat in Virginia Beach is no easy feat – there are so many great choices! Don't fret, we'll let you in on which restaurants are at the top of our list.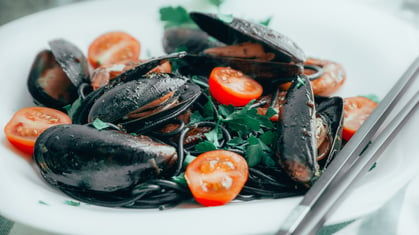 Nestled in the heart of Virginia Beach, Isle of Capri is an upscale, authentic Italian restaurant. The atmosphere of the restaurant is a perfect combination of the charm of Italy and the beauty of Virginia Beach. This is the perfect dining spot for a romantic dinner or to capture stunning views of the ocean while you dine on delicious cuisine. Check their website to make sure you are prepared for the dress code, and for other information such as valet parking and event updates!
If you are staying at The Cavalier, you will already expect The Cavalier Restaurants and Bars to be impressive dining experiences. The culinary haven showcases a blend of timeless elegance and contemporary flair, offering a variety of restaurants and bars that cater to every palate and occasion.
If you are planning a trip to Virginia Beach, chances are you want in on some of our fresh local seafood. The Atlantic on Pacific has just that! They offer some of the best raw bar options, including raw oysters, which they have mastered. The menu caters to local and regional fisherman, crabbers, oysterman, farmers, and producers – you will be getting an authentic taste of Virginia at this spot, to say the least!
Big Sam's Inlet Café & Raw Bar is another locally beloved seafood restaurant that completely captures the essence of coastal dining. If you're looking for a tiki bar atmosphere to really solidify your beach vacation, plan a lunch or dinner here. Indulge in some great American cuisine and fresh seafood – raw, fried, or grilled, the choice is yours!
Date Night
Eager to plan a romantic evening to spend time with your significant other? Virginia Beach's stunning scenery, delightful dining options, and lively atmosphere provide the perfect backdrop for a romantic date.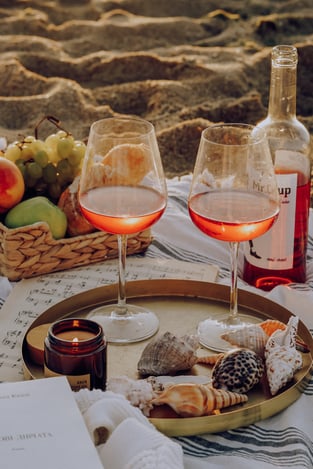 Before you start your activities for the evening, you may want to treat your date to an intimate dinner. Becca at the Cavalier is a fine dining restaurant renowned for its elegant, candlelit ambiance and exceptional cuisine. Make a reservation to ensure you have a table for two and order a bottle of wine from their extensive selection to complement your meal.
Watching the sunset or stargazing on the beach is every romantic's idea of a special night with their partner. Virginia Beach has a large, soft sandy beach offering plenty of privacy away from the hustle and bustle of the boardwalk and other beach goers. Grab a beach blanket, a picnic basket, and your sweetheart, of course!
Once you've had your fix of shooting stars under the night sky on the beach, take a stroll down the boardwalk for a sweet treat. Right on Atlantic Avenue across from the boardwalk, The Sweet Spot is an all-pink desert parlor with some of the best deserts in the city. You can't miss it! Churros, funnel cakes, shakes, and more – this is the perfect place to end your date night on a (sugar) high note!
Family Fun
When you're not spending the day on the beach, you may need to find some activities to entertain the kids. Virginia Beach has plenty of kid-friendly, family fun around every corner.
The Virginia Aquarium and Marine Science Center is a captivating, educational destination that immerses visitors in the world of marine life and aquatic ecosystems. The state-of-the-art facility offers a diverse range of exhibits featuring marine animals, from playful otters and mesmerizing sharks to beautiful coral reefs. The children and adults alike will love the interactive displays and hands on experiences.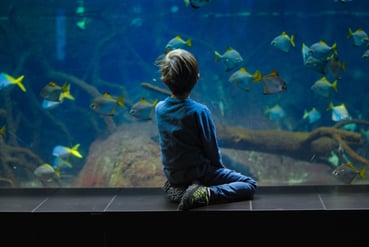 Have you ever wanted to go sky diving, but were on the fence about taking the risk? We have the solution. iFLY is an indoor skydiving facility that allows participants to enjoy the thrill of skydiving within the safety of an indoor wind tunnel, and an instructor to assist you, making it completely safe. This is an experience you won't want to miss out on!
For many, deep sea fishing is a must-do on their list for a beach vacation. If you are interested in booking a charter with experienced Virginia Beach fisherman, Virginia Beach Fishing Charters is a full-service charter fishing boat that takes off from Rudee Inlet, at the southern end of the Virginia Beach boardwalk.
Nightlife
Virginia Beach's nightlife offers something for everyone, from those seeking high-energy entertainment to those looking for a quiet spot to unwind. Whether you want to dance, listen to live music, or simply enjoy the sounds of the ocean, the nightlife in Virginia Beach is sure to provide a memorable experience.
A Short Drive Away
For even more to do and see during your stay, check out more of our recommendations in Richmond, the Peninsula, Williamsburg, and the Northern Neck!
Visit any of our favorite spots during your stay? Let us know about your experience on lizmoore.com!