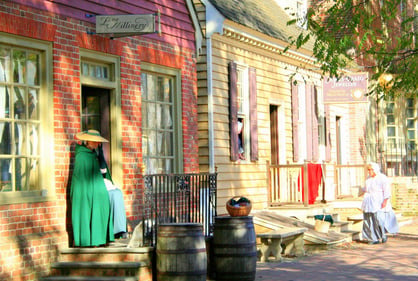 By: Lauren Cummings
Plan your weekend trip to Williamsburg, Virginia with a thought-out itinerary from local insiders. We love sharing the beauty of our hometown, and we are so excited to show you why we love where we live!
Book Your Stay
Book your stay in Williamsburg at one of our most-trusted favorites.
Kingsmill Resort is AAA Four Diamond Condominium Golf Resort – a luxury golf and spa destination. The resort nestles on the James River and is a short drive away from Busch Gardens. You can choose to stay in a 3–4-bedroom cottage, a room, or a condo. Regardless of what you choose, your stay is sure to be comfortable, scenic, and immaculately clean.
Colonial Williamsburg Resorts offer deals for admission to Colonial Williamsburg when booking directly:
For a modern luxury experience mixed with southern charm, book your stay at the Williamsburg Lodge. Enjoy a spa day, purchase a golf course package, and dine at Traditions. The dining spot is a comfortable and classic restaurant located in the resort. Bringing your dog? They have rooms that are dog-friendly!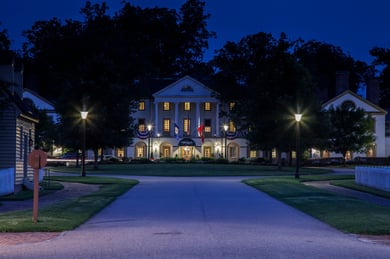 The Williamsburg Inn embraces an impressive Regency style with a combination of the old world and modern luxuries. Those who have dined at the inn can attest to the elevated culinary options. This resort also offers dog-friendly rooms for guests.
Rise & Shine
Early bird gets the worm! Start your day with an invigorating morning stroll with views of the water and the wildlife that occupies it.
Bassett Trace Nature Trail is a birding "hotspot" and is a delightful way to spend the morning! Walk the 1.4-mile trail and explore the woodlands that are home to native plants and 40 different bird species.
You may crave a coffee and a nice breakfast to re-fuel after your morning activities. We've got you covered!
Aromas is a highly rated café and is known for its gourmet coffee, refreshing smoothies, and relaxing ambiance. It's a great place to stop before your day in Colonial Williamsburg to get caffeinated or after for a cooldown from your day of activity.
What to Do and Where to Go?
There are a variety of activities that can fill up your itinerary for your stay in Williamsburg. Even as a local, these never get old!
Busch Gardens Williamsburg is known as being the World's Most Beautiful Theme Park. It should be on your list of things to do during your stay if you enjoy attractions such as rides and rollercoasters, performances, and great food! The park's theme is Europe, and there are four different countries to "visit" in the park. Planning for the Summer? Check out Water Country USA – Busch Gardens' sister water park!
When visiting Williamsburg, touring Colonial Williamsburg in the Historic Triangle is a must for those curious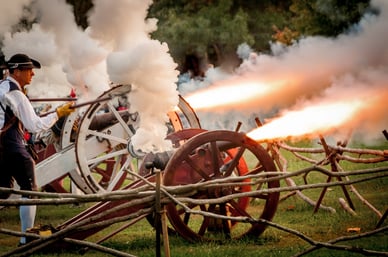 about American history. There is so much to learn, see, and discover within the historical triad – also including Yorktown Battlefield and the Jamestown Settlement.
Wine & Dine
The immaculate Williamsburg Winery is a must-visit for those who enjoy the finer things in life. The epic vineyards offer a beautiful view from the restaurant located on the estate. The Williamsburg Tasting Trail follows four of the best wineries in the state of Virginia and are all within a one-hour drive of Williamsburg. The tasting trail features a variety of breweries and distilleries, with a total of 12 stops.
Good Eats
Decisions, decisions. Choosing a place to eat in Williamsburg is no easy feat – there are so many great choices! Don't fret, we'll let you in on which restaurants are at the top of our list.
Williamsburg's only outdoor bar and restaurant, Berret's Seafood Restaurant, doesn't only have amazing entrees – they also provide entertainment and ambiance. The outdoor style is perfect for the warmer seasons, and the menu provides a variety of delicious seafood and rotating draft beers. They have one dollar oysters everyday from 11:30 am through 7:00 pm – go get them while the gettins' good!
Casa Pearl is an oyster and taco restaurant with an eclectic cuisine that focuses on locally sourced fresh ingredients. The raw bar features fish and shellfish from the Chesapeake Bay region, which then become a cuisine that is described as, "Latin-inspired with a southern twist." Because who doesn't love tacos?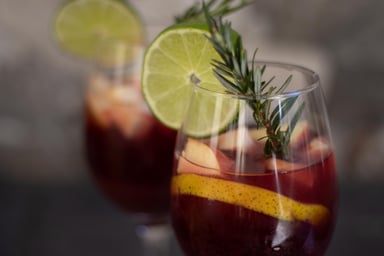 One of our favorite restaurants here at LMA is the award-winning restaurant, La Tienda. This restaurant will make you feel like you stepped into Spain. From the European-inspired décor to the delicious menu offering tapas, entrees, and sangria, you will be delighted with an authentic Spanish culinary experience.
Don't forget to stop by The Cheese Shop during your visit in Colonial Williamsburg! There are so many unique goods to shop in the small store, and they also serve fresh sandwiches that are the talk of the town. Make sure to order the Original House Dressing!
Nightlife
Precarious Beer Project is the place to go for a good time. The brewery has a variety of local beers on draft with plenty of indoor and outdoor seating space. The decked-out arcade makes this place especially unique. Get your nostalgia fix with the Pinball machines, get competitive with your pals in Pop-A-Shot, and so much more!
For the bravest of visitors, Williamsburg Ghost Tours is an awesome activity to do when the sun goes down. The guided tours take those who dare to, "the most frighteningly haunted places in the entire world." The tours run every night at 8:00pm, 9:00pm, and 10:00pm. But beware, these tours are the real deal!
A Short Drive Away
For even more to do and see during your stay, check out more of our recommendations in Richmond, the Peninsula, and the Northern Neck!
Visit any of our favorite spots during your stay? Let us know about your experience on lizmoore.com!