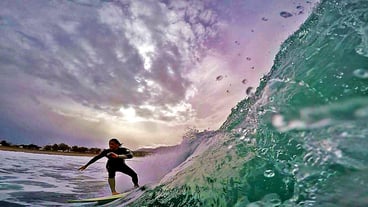 Just because we are approaching the end of August doesn't mean Summer activities are coming to an end in Hampton Roads.
The second oldest continuing surf championship in the world, and the oldest in North America, will be held on Virginia Beach's own turf and surf August 21 - 28th. Now in its 54th year, the Coastal Edge East Coast Surfing Championships (ECSC) returns for another exciting event.
Each year, professional and amateur surfers make their way to the East Coast to compete for prizes and earn surfing titles and, simply, for the love of the sport.
The ECSC began in the summer of '61 as a party held by New Yorkers on Gilgo Beach for their kids to stay busy. The following year, the competition attracted a larger crowd but was publicized only by word of mouth, with only three Virginia Beach residents representing the surfing community.
In 1963, Virginia Beach became the official hub for the competition because of its central location on the East Coast. By 1965, people were vacationing in Virginia Beach for its nicer weather and more consistent waves, and the city has been home to the event since.
This summer the championship, along with surfing, includes a 5K run, flag football, BMX, cornhole, stand up paddleboarding, volleyball, a swimsuit contest and this year's newest addition—boxing. The Pro-Am Boxing Event, Heroes on the Sand, features current and former military and first responder boxers.
There is still plenty of Summer fun to be had in our great region!
Interested in finding more things to do in and around the Historic Triangle? Subscribe here to our blog as we post ideas frequently. You also can purchase a copy of Liz's recently published book, 101 Reasons to Love Living in the Historic Triangle, in either paperback or e-book version by clicking the button below.
Are you interested in hot real estate topics, tips and trends?
Click below to subscribe to our blog!