By: Trez Robinson, owner of Staged 2 Sell
When it's time to put your home on the market for sale, it is helpful to think about it as a product, just like any product on the shelves at a local grocery store. Just like any other product, it has features and benefits, and competition.
To gain an edge in a competitive market, you must win both the beauty contest and the price war!
LIVING AND FAMILY ROOM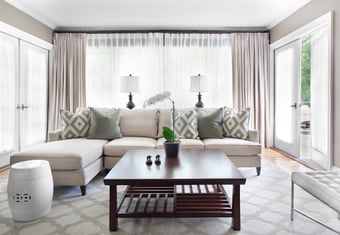 If you go into a model home that is newly constructed, you will see that they are usually sparsely decorated. In a resale home you need to create space for buyers to mentally move into the room by reducing clutter and the overall number of items.

Clear off all coffee tables and end tables to just 2-3 magazines and one nice vase or candle pillar, etc. A good rule of thumb is one item per surface.
DINING ROOM
Clear off dining room table except for one nice centerpiece. In some cases, the room presents nicely when the table is set.
Otherwise, remove tablecloths from table.
Remove extra leaves from the table OR add extra leaves to the table in order for the table to be in proportion to the rest of the room and any other furniture – to balance the room and make it present as large as possible.
Remove extra dining room chairs if they crowd the table or fill up the corners of the room.
Four OR six chairs are plenty (depending on the size of your table). It will make the room look larger and you can put the extra chairs in the garage or a storage unit.

See the Living section above concerning removing or reducing the number of items, valuable items, abd collectsions. It all applies here too, especially in a buffet.
KITCHEN
The main question in the kitchen is always…what can you live without? Clear off counters leaving only a very few items that you have to use on a daily basis. Everything else should be kept off the counters to create space. Most homes have far too many small appliances and other items that should be stored out of sight. Leave out a few large decorative items like a bowl of fruit or a basket with a silk plant in it, or 3 different sized candle pillars with fresh, unlit candles – with a nice aroma (Target has great smelling candles, at a very reasonable price).
Repair any tile or Formica countertops and edges that have been damaged or come unglued.
Clean tile grout with bleach if it is stained.
Remove all magnets, photos, children's drawings, etc., from the front and sides of the refrigerator. If there are a couple of truly necessary items, tape those to the inside of a nearby cabinet.
Clean the stovetop and oven. Replace old burner pans if they are badly stained, or have a strong odor to them. Clean all exhaust fans, filters, and hoods.
Clean the kitchen floor and keep it clean for showings.
Keep the kitchen sink clean and empty on a daily basis.
Make sure the kitchen faucet is working smoothly without drips, and that it is clean.
Clear everything off the window ledge above the kitchen sink.
Remember to pack up the collections in the kitchen, too. Pack up your antique plate collection or whatever will distract buyers and take up space. Remove everything that is on top of the cabinets.
Keep all soaps, towels, scouring pads, and cleaning supplies out of sight under the sinks.
Some kitchens have too many scatter rugs in them. Too many rugs make a room look smaller.
Empty the garbage every day to prevent kitchen odors. Try to keep it out of sight – under the cabinet or in the pantry.
Move dog and cat dishes so that they don't interfere with buyers walking around the room. Recommend they not be in the kitchen; move to laundry room, etc.
MASTER BEDROOM
Make the bed every day & fluff the pillows. Purchase several new accent pillows to enhance the other colors in the room and make a great master bedroom impression.
Invest in new bedspread and shams if necessary. Fresh bedding helps the master bedroom present well – the second most important room in the house for buyers!
Clear off bedside tables and chest of drawers except for a very few necessary items.
Store extra books and magazines underneath the bed.
Keep closet doors closed. If you have a walk-in closet keep the floor clean and free of laundry and clutter. There should be space between hanging clothes.
HALLWAYS
Remove runners/small rugs on carpet or hardwood floors.
ADDITIONAL BEDROOMS See Master Bedroom Guidelines.
In children's rooms take down all the posters except for one favorite over the bed. Repair nail holes and paint walls if needed.
LAUNDRY ROOM
Put soaps and cleaners in a cupboard or reduce the number & organize them neatly on one shelf.
Just like the kitchen, keep counters and sinks clean and empty.
Get rid of excess hangers and hanging laundry. If you have a drying area replace all those misc hangers with one style of white plastic hangers.
Make sure that light bulbs are working and have adequate wattage. Many laundry rooms are too dark and need to be brighter.
BATHROOMS
Clear off counters. Reduce toiletries down to a decorative few (3-5) and consolidate them on a tray or decorative basket. Put everything else in drawers or cabinets.
Replace that bar soap with a neat bottle of liquid soap.
Coordinate all towels with one or two colors. Fold in thirds and hang neatly every day. New towels can be purchased very inexpensively if the ones you have don't match.
Clear everything out of the shower and tub except for 1 bottle of liquid soap and 1 shampoo.
Clean or replace the shower curtain.
One common problem in a lot of bathrooms is cracking or peeling just above the top of the shower tile or tub enclosure where it meets the dry wall or ceiling. Repair using caulking and paint or install wood trim coated in polyurethane.
Get rid of mold and stains throughout bathroom, especially in the shower and tub area.
Many tubs and showers need a fresh new bead of silicone caulking around the edges to make them look neat and clean.
Take all cloth toilet lid covers and water closet covers off. Keep toilet lids down every day.
Scatter rugs in front of sink and toilet and shower make the room look small. Remove all rugs for showings.
Hide all cleaning supplies and the garbage can under the sink or out of the line of sight.
Click below to download our full Homeowner Staging Checklist and get your home ready to win both the beauty contest and the price war!
Are you interested in hot real estate topics, tips and trends?
Click below to subscribe to our blog!