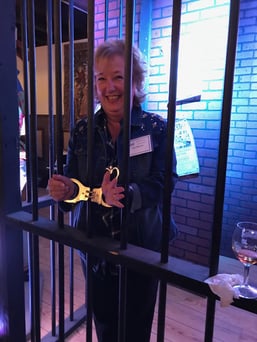 This past weekend, Liz Moore, President of Liz Moore & Associates, participated in the Cowboys Uncorked fundraising event at the Williamsburg Winery. Liz was thrown in the Cowboys Uncorked Jailhouse and needed to raise bail money to be released. She raised a total of $3,240!
All money raised benefits the Dream Catchers at the Cori Sikich Therapeutic Riding Center.
Dream Catchers is a 501 (c)(3) non-profit organization whose mission is to provide life-changing equine assisted activities and therapies to children and adults with special needs. Each year, the Center provides over 4,000 lessons to about 500 students from 4 years of age to senior citizens in their 90's.
Thank you to all who donated to this amazing cause!
Are you interested in hot real estate topics, tips and trends?
Click below to subscribe to our blog!