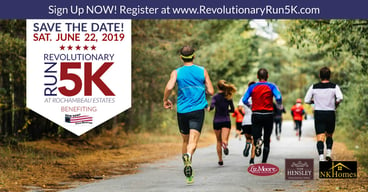 Join us for our 2nd Annual Revolutionary Run 5K on Saturday, June 22nd from 8-11am! Enjoy a jog through Rochambeau Estates and experience the beautiful work of NK Homes. All proceeds go to New Kent Fire-Rescue!
The newly-established Rochambeau Estates highlights the beauty of New Kent County with spacious and quiet lots. This lends itself towards private living while still delighting in the charming community. NK Homes is developing Rochambeau Estates and specializes in the finest quality craftsman and traditional elevation style homes. To learn more about NK Homes and their dedication to excellence or to inquire about living in Rochambeau Estates, visit them online at NKHomesofVA.com.
Revolutionary Run 5K...just another reason why we love where we live!