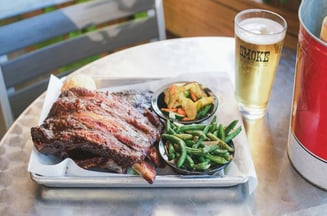 By Karen Newton

Take your pup to Steve and Kathy Walters' Smoke Barbecue Restaurant and Bar in Newport News once and chances are good that they'll want to come back.

Why? Not only does Smoke provide water bowls and Milk Bone treats to its four-legged guests, but they also offer something special: rawhide bones right out of the smoker. It's the rare dog who won't happily work
on a meat-smoked bone while their parents settle in for some of Chef Forrest Warren's old school St. Louis ribs, pulled pork or beef spareribs.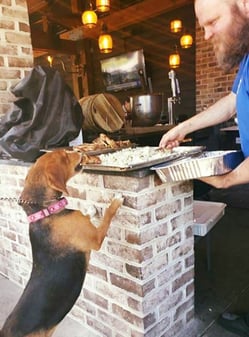 The Walters had a catering business in Smithfield since 2008, finally deciding it was time to open a restaurant, from which they still do catering. If your dog is too dainty for a big old rawhide bone, Smoke also offers Doggie Parfaits made with the doggie-licious combination of peanut butter and bacon combined in a freezer cup. There's not a dog in Hampton Roads who would turn down that combination.
The staff at Smoke asks only that your fur baby be leashed or in a crate and stay by your table throughout the meal. And it's not just canines that Smoke welcomes, either, but pets of all types. Regulars will tell you that there's an occasional leashed cat and even a pet parrot who sits happily on its owner's shoulder during a meal. When the barbecue's this good, everyone wants to go.
Visit Smoke at 10900 Warwick Boulevard in Newport News.