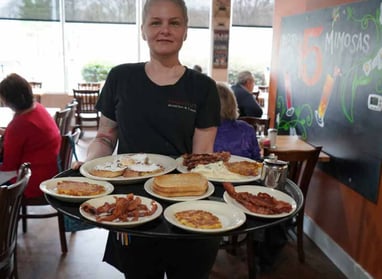 By Brandy Centolanza
For the past ten years, Sun Brown has been serving customers with a hearty breakfast and lunch as owner of Food Craft off Victory Boulevard in York County. People from all over the Peninsula and the Southside flock to the establishment for a great meal. So, what is Sun's secret?

"People like the atmosphere," Sun said. "We are very family-oriented. When people come here, they are treated like they are a part of our family. People also love the food. I think it's a combination of those three things that sets us apart."

Sun was a flight attendant before moving to the Hampton Roads area back in the 1980s to be closer to her
sister, KC. After relocating, Sun started working at a Japanese Restaurant in Newport News and later owned another restaurant in Hampton for seven years before opening Food Craft in 2009. "Working in the restaurant business is all I've really known," Sun said.

When she opened Food Craft, she intentionally wanted to serve only breakfast and lunch in order to free
up her evenings to be with her three children. "That was important to me, to be able to spend time with them at night," Sun said. "When your kids are little, you want to be home with them." These days, Sun's children are grown. Her two sons, Kyle and Coti, help out at the restaurant, working in the kitchen. Her sister is also a regular customer, so Food Craft is truly a family affair.
"It feels good to have my kids here with me," Sun said. "My kids are always right there behind me."

Popular breakfast items at Food Craft include the chicken and waffles, French
toast, and pancakes. There are seven different kinds of pancakes available on the menu. The griddle platters come with two pancakes, two eggs to your liking, and two pieces of bacon or sausage.
"I like the blueberry pancakes, but the Cinnabun pancakes are the most
popular," Sun said. "People like our omelettes too."
Food Craft also has a bar if you want amimosa or Blood Mary with your first meal of the day. Prefer to stop in for lunch? Food Craft has lunch specials during the week including chicken potpie on Tuesdays; fried chicken on Wednesdays; meatloaf on Thursdays; and fried flounder on Fridays.
"We have regular customers who come in just for the chicken potpie," Sun said. "It's pretty big and when people first see it, they go 'wow!'"
Other lunch options include craft burgers (there are ten types; Sun's favorite is the swiss mushroom burger),
sandwiches, and salads. Patrons also enjoy the hamburger steak, which is topped with gravy and sautéed onions and comes with two sides. Among the most popular appetizers are the fried green tomatoes and Scotch eggs: two hard-boiled eggs wrapped in sausage, breaded in panko crumbs and fried until golden brown.
"People just love the Scotch eggs," Sun said.
Sun is on her feet much of the day as a hostess for the restaurant.
"I always greet the customers, make sure the food comes out right, and thank them as they leave," she said. "I
think that is important." People are always asking when Sun will open a second location of Food Craft, a testament to customers' affection for the restaurant.
There are no plans to expand, however. "I'm just going to keep running it the way I always have been and see what happens," Sun said. "My customers are all so sweet. I have regulars who have been coming in for many years and have become good friends. I am very lucky."