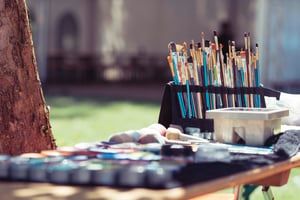 The Hilton Art Show & Porch Walk is taking place on Saturday, May 12th from 11am to 7pm!
Stroll through Hilton Village's commercial district, down Main Street and to the James River and view and purchase incredible local art. Live music, food trucks, and a beer garden will be on site.
This event is part of Hilton's Centennial Celebration happening all year long!
Hilton Village is a planned community located in Newport News, mid-way between Virginia Beach and Williamsburg. Hilton was built in 1918 as part of the war effort to house shipyard workers. Hilton sits on 100 acres of land between the C&O Railroad and the James River. When it was first built, it was a block of houses and a strip of stores in the middle of a vast forest, connected to the shipyard and the rest of the city by a streetcar. After World War I, the homes of Hilton were rented out, and later, sold as private residences. The quality housing of the village and its convenient commercial district became a big draw for the area. Hilton Village was listed on the National Register of Historic Places in 1969. The village is full of stories waiting to be told from its rich history. Hilton Village started as neo-traditional town planning in 1918 that translates today as a modern community that both treasures its history and looks toward the future.
Visit http://www.hiltonvillage100.com/ for a calendar of upcoming events.