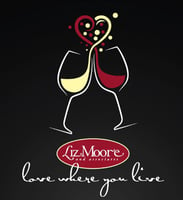 Join us on Saturday, February 16th, from 1-4pm for the Liz Moore and Associates New Homes Tour. With 11 homes on tour from the Peninsula up to Richmond, one is bound to be near you!
And what's better than touring beautiful homes? Doing so while sampling wine and chocolate!
Bring your valentine out for a little fun! To download the complete list of participating homes, visit www.lizmoore.com/valentine.