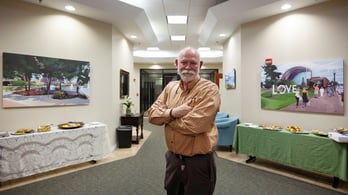 At Liz Moore & Associates, we truly love where we live! So much so, in fact, that we commissioned local artist Bob Oller of Oller Creative Studios, to create original vector paintings of some of our favorite places!
Oller introduced his LizLocal collection a few months ago in the Newport News Liz Moore office in City Center – introducing the collection at a reception for VIP clients and Liz Moore agents.
5 paintings were unveiled to an eager audience:
Poquoson Flats
Yorktown Skies
Playing Time Lions Bridge, Newport News
Clear Skies, Air & Space Hampton
City Center Newport News
You can enjoy these works in the lobby at 11801 Canon Boulevard in Newport News, or view them online at lizmoore.com/art. Various size glycee prints are also available via the website.
What's next? Stay tuned for the Williamsburg and Richmond office debuts!
For more information, visit lizmoore.com/art!