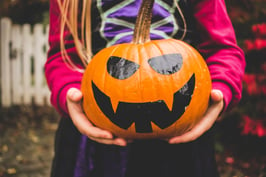 Tickets on sale now!
Kids ages 3 – 12
Saturday and Sunday, October 28 and 29, from 2:00 - 5:00 p.m.
This Halloween, Colonial Williamsburg depicts a world turned upside down. The British have put down the American rebellion of 1776 and are in control of Duke of Gloucester Street and the surrounding environs. But unbeknownst to King George III and his "mad' followers, C. Thaddeus Forrest, founder of the Magical American Revolutionary Society, has returned to encourage young trick or treaters to overcome their fears, defeat the King and earn their sweet prize.
Trick-or-treating registration is limited, and requires a $2 ticket per child.
All proceeds benefit Colonial Williamsburg's education and preservation initiatives. Participating children must be accompanied by a legally responsible adult.
Get your tickets here! Registration is limited, don't wait.
Interested in finding more things to do in and around the Historic Triangle? Subscribe here to our blog as we post ideas frequently. You also can purchase a copy of Liz's recently published book, 101 Reasons to Love Living in the Historic Triangle, in either paperback or e-book version by clicking the button below.
Are you interested in hot real estate topics, tips and trends?
Click below to subscribe to our blog!