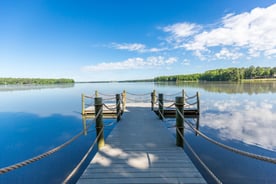 Brandermill is a master planned community located in Chesterfield County along the shores of the Swift Creek Reservior. Located a convenient 18 miles from downtown Richmond, Brandermill is every nature-lovers dream retreat.
Brandermill provides outdoor activities for individuals of all ages, including playgrounds, walking/ biking trails, swimming pools, and waterfront recreation. Because of Brandermill's strategic location, residents have easy access to dining, entertainment, and the benefits of downtown, while maintaining their nature-driven lifestyle.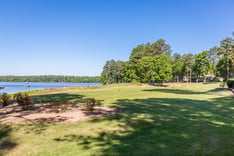 Brandermill is home to numerous clubs and organizations that thrive in this community. Some of these are the Neighborhood Residents Council, the Brandermill Rotary Club, the Brandermill Sailing Club, the Brandermill Women's Club, the Brandermill Swim Team, and several others. These give residents an opportunity to not only connect within their community, but to use their skills, time, and efforts to better Chesterfield County and beyond.
Brandermill offers numerous unique amenities that helped the community receive the "Best Planned Community in America" award by Better Homes & Gardens magazine only four years after the first residents moved in. Some of these amenities include swimming pools, trails, Heritage Farms Garden, The Green Market, the Clubhouse which residents may rent for events, the Marina filled with endless activities, unique pavilions and playgrounds for the family, a secured RV and boat storage area, and even "Resident Only" parking spaces. Residents of Brandermill are offered several more amenities, which contributes to the positive atmosphere for those who live here.
For more information, download our Brandermill neighborhood guide.