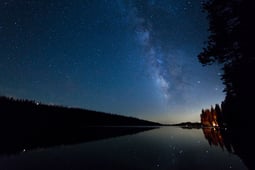 Free sky observing begins at sunset at the Virginia Living Museum (weather permitting). At 6:30 p.m. in the planetarium, see the VLM's newest laser-light-and-music show, "Electrolaze." Experience electronic dance music by artists like MSTRKRFT and John Legend, Daft Punk, and Tiesto. We guarantee you'll be dancing in your seat! (Program is family-friendly; inappropriate song lyrics have been eliminated or blanked.)Recommended for ages 6 and up. Then it's back to astronomy in the planetarium with a tour of the current night sky in "Virginia Skies"at 7:30. Evening in the planetarium continues with three more laser-and-music shows: "Laser Mania" at 8:30, "Laser Aerosmith" at 10, and "Pink Floyd's The Wall" at 11:30. Planetarium shows are $6 each, or $10 for two.
Interested in finding more things to do in and around the Historic Triangle? Subscribe here to our blog as we post ideas frequently. You also can purchase a copy of Liz's recently published book, 101 Reasons to Love Living in the Historic Triangle, in either paperback or e-book version by clicking the button below.
Are you interested in hot real estate topics, tips and trends?
Click below to subscribe to our blog!