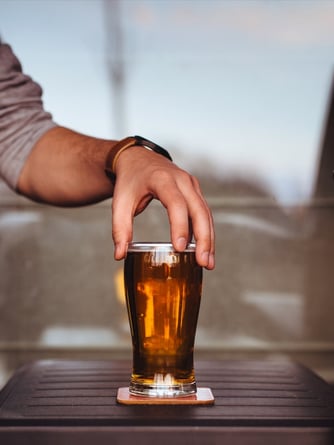 The craft brewery boom has beer lovers everywhere hopped up, and Virginia is no exception.
The Commonwealth boasts 206 breweries, 13th most in the nation. They produced nearly 300,000 barrels of traditional and wildly innovative brews last year. That's part of an explosion that's seen U.S. craft breweries triple in number to more than 5,000 in just five years. Not coincidentally, 2012 is also when Virginia's General Assembly passed Senate Bill 604 allowing breweries to sell beer and their patrons to drink it on-site. That's translated into an amazing 486-percent increase in Virginia breweries.

Craft breweries, though, are so much more than high-ceiling warehouses cranking out lagers, stouts, porters and IPAs with cool labels and catchy names. Craft tasting rooms have become modern cultural centers, warm and welcoming community hubs - family and often dog-friendly - that are fun, vibrant boosts to their town's quality of life. Shadowed by looming stainless steel tanks where the hops, yeast and water join forces, tasting rooms thrive now as special-event venues, trivia parlors, music halls, food-truck and corn hole fests, even yoga studios.
Craft breweries and beer tourism add over $9 billion to Virginia's economy, according to Gov. Terry McAuliffe, who calls Virginia "a premier destination for craft brewers and consumers
from all over the world." Craft brewing is a collegial world in its own right. It thrives on the principal that all who brew are colleagues, not rivals, inspiring each other to greater creativity and beer innovation.
We'll drink to that!
Here are just a few of our favorites for relaxed, beersavoring good times with friends on the Peninsula, where original beer-making remains on the rise:
Bull Island Brewing Company
758 Settlers Landing Road, Hampton
Owner Doug Reier has called the fire that destroyed his originally planned location during construction a in disguise. That's because he then discovered Bull Island's current bustling home along downtown Hampton's waterfront and moved on in.
Boasting a wide-open view of the Hampton River, Bull Island is a casual and convivial brew pub that serves light fare and five tasty flagship beers - King Street Kolsch, Waterman's Wheat, Queens Way IPA, Laura's Favorite Belgian Tripel and Dare Double Stout - along with a half-dozen seasonals.
As for staple events, circle Taco Tuesdays - $1.50 tacos all day - and live music Friday and Saturday.
Oozlefinch Craft Brewery
81 Patch Road, Fort Monroe
Former police officer Russel Tinsley began living his dream of beer-making in the fall of 2016 by opening Oozlefinch, which overlooks Mill Creek on historic Fort Monroe.
Oozlefinch, a mythical bird used as a U.S. Army artillery mascot, rose from an old Fort Monroe gym. It's been transformed into a passionate place producing beers that, so says the Oozlefinch website, "pays
homage to the legends of Fort Monroe."
But Oozlefinch also is all about being thoroughly modern and entertainingly inventive. It has made a fast name for itself with a variety of hazy IPAs and barrel sours such as Dr. Rendezvous, its winebarrel aged Sour Imperial Saison. Other unique, and cheeky, recipes include the Rare Bird Coffee Cream Ale, Cows at Large Imperial Milk Chocolate Stout and Lady in White Hefeweizen. The latter earned a silver medal last year from the Virginia Craft Brewers Guild.
Tradition Brewing Company
700 Thimble Shoals Boulevard, Newport News
Tradition has been a Newport News tradition since, well, June of 2016. That's when five partners, including brewmaster Dan Powell, teamed up to found the brewery in an Oyster Point warehouse.

Its 20-barrel system pumps out nearly two dozen signature and seasonal beers. Hull 488 IPA, Red Willie Irish Red, Mothership Cream Ale and Sounder American Pale Ale are the ones that are available year-round.
Regular highlights of the Tradition calendar are Monday Industrial Nights, when restaurant and other food and beverage workers get tasting-room discounts just by showing a pay stub, and the Burn and Brew Group Run. Participants gather at Tradition for an early evening three-mile run/walk around City Center before repairing to the Tradition tap room for a wellearned post-workout brew.
Interested in finding more things to do in and around the Historic Triangle? Subscribe here to our blog as we post ideas frequently. You also can purchase a copy of Liz's recently published book, 101 Reasons to Love Living in the Historic Triangle, in either paperback or e-book version by clicking the button below.
Are you interested in hot real estate topics, tips and trends?
Click below to subscribe to our blog!