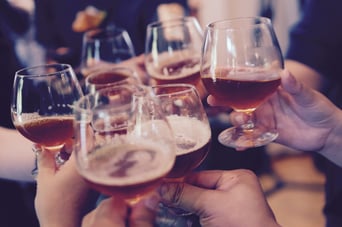 August is Virginia Craft Beer Month, and many Peninsula-area breweries are celebrating all month long!
Virginia Beer Company owner Robby Willey said his brewery has a "slew of new beer releases, events and specials going on all month long." The special events will culminate in the release of VBC's fall seasonal cans Sept. 2.
The brewery is releasing multiple beers this month, including the return, and canning of, Green View IPA.
Instead of hosting weekly special events, Oozlefinch Craft Brewery is releasing a new firkin every Friday in August. Oozlefinch, located at 81 Patch Road on Fort Monroe, will host a customer appreciation day Aug. 27. Customers can wear any gear (hats, shirts, etc.) from any Virginia independent craft brewery to qualify for discounts.
Tradition Brewing Company is hosting several events and tapping specialty, limited-edition beers throughout the month.
The Newport News brewery, located at 700 Thimble Shoals Blvd., will offer Randall candy infused pints on Thursdays.
Brass Cannon Brewing, located at 5476 Mooretown Road in the Williamsburg area, canned a limited amount of the Muzzle Flash American Amber. It also released a Vanilla Coffee Blonde Ale earlier this month. The brewery will host a beer pairing dinner 6-9 p.m. Aug. 27 with Poor Boys Burger food truck.
Hampton's Bull Island Brewing Company, located at 758 Settlers Landing Road, released its first pilsner, Bubba Boots Pilsner, as well as Two Finns Belgian Strong Ale. Bull Island Brewing Company will have specialty firkins during the month.
Several of AleWerks' beer month contributions have taken place outside the tasting room, with mini-tap takeovers and other events in the state. The brewery is doing Randall infusion releases on Thursdays in its tasting room at 189 B Ewell Road in the Williamsburg area in addition to its regular lineup of events.
Interested in finding more things to do in and around the Historic Triangle? Subscribe here to our blog as we post ideas frequently. You also can purchase a copy of Liz's recently published book, 101 Reasons to Love Living in the Historic Triangle, in either paperback or e-book version by clicking the button below.
Are you interested in hot real estate topics, tips and trends?
Click below to subscribe to our blog!