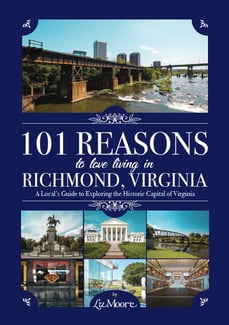 As you might imagine, at Liz Moore & Associates we are enthusiastic advocates of living in Richmond and its surrounding communities. We have the best of all worlds: four distinct seasons with just enough snow in the winter to have fun; long, lazy summers, and SPECTACULAR springs and falls. We have great schools, plenty of history and culture, and are convenient to just about everything…the beach, the mountains, Washington DC, and much more.
Who knows the insider secrets of this dynamic area better than the best REALTORS in town? We've compiled 101 of our favorite things about living Richmond and are excited to announce the release of our latest book, 101 Reasons to Love Living in Richmond.
The hard part of writing this book was to narrow it down to 101 reasons to love living here. It would be impossible to include everything, and so we tried to stick to our favorite things. I've we've missed something, please don't hesitate to email us at RVA@lizmoore.com, and we'll consider adding it to the next edition.
You can download the electronic version for free, or purchase a hard copy for $5, at lizmoore.com/101.
Now, grab a highlighter, and pick out some fun things to do this weekend!