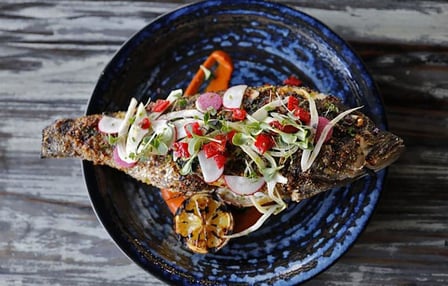 If you haven't tried Williamsburg's Casa Pearl restaurant, then you are missing out!

Located in what used to be an old gas station off Merrimac Trail at the edge of the city, the oyster and taco restaurant has enjoyed a steady stream of local clientele as well as positive reviews since opening.
"It's been a whirlwind of trying to keep up," said owner Mikey Maksimowicz. "We're doing like one and a half to almost twice the business we were
anticipating."
When Mikey came up with the concept of Casa Pearl a couple years ago, he wasn't sure how Williamsburg would respond. "In the beginning we were skeptical," admitted Mikey. "Because we are a taco restaurant, but by no means are we a Mexican restaurant. We're more of a very eclectic, no-defined cuisine focusing on fresh ingredients."
Casa Pearl focuses on quality, locally- sourced ingredients, seasoned culinary expertise, and amazing customer service. Mikey, who hails from Virginia's Northern Neck, grew up crabbing with his dad and cooking a lot of seafood. "It was our family's hobby," he said. His southern heritage, combined with his experiences in culinary school and in fine-dining restaurants around the globe prepared and inspired him to open Casa Pearl. He wanted to create a unique dining experience.
"I thought, why can't we offer great food in a casual atmosphere with raw concrete floors and whatnot, but still have awesome service, awesome food and great cocktails at a mid-range price point where it's not breaking the bank for everyone to go out and eat – and that's kind of the concept of Casa Pearl and how it evolved," he said.
Williamsburg has embraced Mikey's concept whole-heartedly. Locals can't get enough of Casa Pearl's distinctive
dishes. "My husband and I love the grilled oysters and the hushpuppies are amazing," said Liz Moore, of boutique real estate brokerage Liz Moore & Associates.

Liz is always looking for fun, new places to eat with her family as well as
o recommend to clients. "Williamsburg's restaurant scene is really growing into an exciting mix of dining options and Casa Pearl is a shining example of how our area is embracing new things," she said.

Since opening, Casa Pearl's core menu has stayed mostly the same, but weekly food and drink specials keep customers on their toes. The raw bar features many of the delicious fish and shellfish that the Chesapeake Bay region has to offer and tacos are Latin-inspired, but with a southern twist. For instance, the fried chicken taco features a creamy pimento cheese coleslaw combined with sweet Bread & Butter pickles and the baked Chincoteague clams are served with Thai sausage, coconut milk and basil gremolata.
Among Casa Pearl's top sellers are the oyster po-boy taco -- a heavenly mix of friend oysters, Napa cabbage, jalapeno, tomatillo salsa verde and remoulade as well as an extremely fresh-tasting ceviche comprised of cucumber, avocado, jalapeno, garlic and herbs. As if that doesn't sound delicious enough, Casa Pearl also boasts an impressive cocktail menu, which includes a seasonal slushie, Virginia beer and its third top-selling menu item, the Casa Margarita – made with Lunazul Tequila, Cointreau, Ancho Reyes Chili liqueur, lime, agave and grapefruit jalapeño bitters?