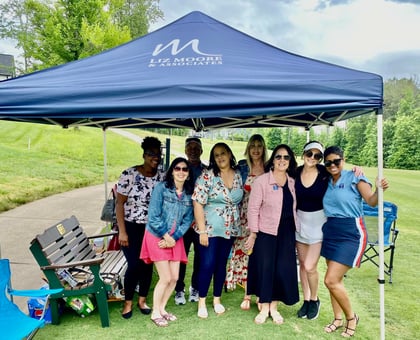 The Liz Moore & Associates Richmond Office were among the sponsors of the Darrell Green Youth Life Foundation Celebrity Gold Tournament at Magnolia Green in Moseley, Virginia on May 23rd.
Liz Moore agents were on the 8th tee handing out food, drinks, and support to the participants.
Youth Life Foundation of Richmond operates Learning Centers to develop leaders by making long-term investments in children from at-risk communities. By supporting students academically, developing their character from a young age, raising expectations, and investing in their lives through committed mentoring relationships, the aim of the foundation is that these youth will rise above their circumstances to become tomorrow's leaders.
Darrell Green, Hall of Fame Washington Redskin and Founder of the Darrell Green Youth Life Foundation, headlined the field of celebrity guests.