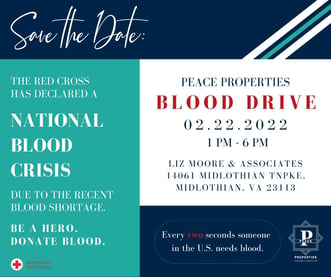 Did you know that every two seconds someone in the U.S. needs blood? However, due to the recent blood shortage the American Red Cross has declared a National Blood Crisis. You can help by donating at our Richmond office thanks to Peace Properties.
What: Blood Drive
When: February 22, 2022 1pm-6pm
Where: 14061 Midlothian Turnpike
Richmond, VA 23113
Questions - contact Gayle Peace at (804) 986-1228 or gaylepeace@lizmoore.com.