New Town is a 365 acre new urbanism community of around 1000 mixed style homes set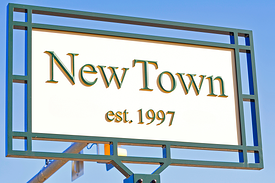 alongside businesses, dining, shopping and entertainment. And, of course, it's home to the Williamsburg office of Liz Moore & Associates!
Homes for sale in New Town range from one story live above condos, to spacious townhomes featuring balconies and courtyards, to single family homes – whatever suits your taste and budget in terms of Williamsburg real estate, you can find it in New Town. Whether you're retiring to Williamsburg, or young singles or young professionals, there is a lifestyle here to match your needs.
Take a stroll around New Town, visit one of over 170 shops and restaurants, catch a movie, or people watch on a bench or near the fountain…all without getting in the car. You may even find your friends and neighbors at an outdoor concert at Sullivan Square. Banking, professional services, hair and nail salons, and even the gym are just a few steps from your front door! And, Trader Joe's, the Fresh Market, Target and all your favorite shopping is within a mile along the Monticello Corridor.
Some of our favorite New Town events are the annual New Town Night Out (a meet and great for area businesses and residents at Legacy Hall), the Chocolate Chariot Race, trick-or-treating at Halloween, and the tree lighting and the Ice Rink on Sullivan Square for the holidays. And, of course, the many outdoor concerts offer an opportunity to enjoy great company and great music right here in New Town.
Sign up for our New Town "Get the Scoop" and we'll send you e-mail alerts when new listings in New Town hit the market, so you can review price, address, photos, and listing details, and much more!