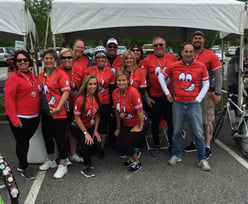 On Saturday, April 30th, a team of Liz Moore agents, family, and friends (a.k.a. The Touring Tamatas) participated the Tour de Cure to raise money for the American Diabetes Association.
The Tour de Cure is a series of fundraising cycling events held in 44 states nationwide. The Tour is a ride, not a race, with routes designed for everyone from the occasional rider to the experienced cyclist.
The Touring Tamatas were sponsored by local mortgage lenders and Lytle Title, and raised $6,335 for the American Diabetes Association! Thank you to everyone who supported our team!
Are you interested in hot real estate topics, tips and trends?
Click below to subscribe to our blog!