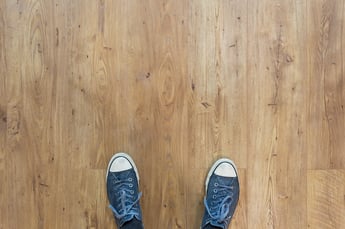 Hard flooring has been gaining in popularity for years, especially in the main living areas of homes. Hard floors are easy to clean, hypoallergenic, and lend a sleek beauty to your home. Changing your floor covering is
an update that will instantly modernize your home's appearance while adding value and appeal.
There are many options when it comes to hard flooring: wood, laminate, vinyl, or tile. Thanks to technological improvements, faux finishes are more convincing than ever, and wood-look products are gaining in popularity. With so many choices, where do you start?
New flooring is a big purchase, so budget is clearly a factor. But you should also consider how much traffic
and what kind of traffic your floors will endure- do you have animals with sharp or thick nails, do you have children that ride vehicles or roll trucks across your floors? You should also consider how much sunlight
and moisture your floors will weather.
There are six main types of hard flooring options: solid wood, engineered wood, laminate, vinyl, linoleum, and ceramic tile.

Solid wood – This timeless, classic material has a natural warmth and impressive wear resistance that can be sanded and refinished several times. Solid wood may expand and contract with varying humidity levels and can dent and show wear easily, and fade from sunlight.
Installed cost: $5-$10 per square foot.
Engineered wood – This flooring uses a thin veneer of real wood or bamboo over structural plywood, giving
he appearance of solid wood at a more affordable price. It doesn't wear as well as solid wood and some
may be too thin to even refinish once.
Installed cost: $4-$9 per square foot.
Laminate – Constructed of dense fiberboard with a photo beneath a clear-plastic protective layer, laminate can mimic nearly any flooring. The best laminates resist scratching and discoloration from sunlight better than most wood. The perfection and repetition of pattern can compromise the realistic appearance of what you're trying to mimic. Floors can't really be repaired and must be replaced once the outer layer has worn through. Installed cost: $3 to $7 per square foot.
Vinyl – Easy installation and a vast selection of colors and designs make this a popular choice. Vinyl is also good at fending off dents scratches, discoloration, and stains. However, even the best products still look like vinyl close up, and the top-of-line product can cost as much or more than solid-wood and laminate.
Installed cost: $2 to $6 per square foot.

Linoleum – Made of linseed oil and wood products, linoleum is a natural, resilient material offered in lots of styles and colors. However, resistance to wear, scratches, and dents varies widely and it can also be relatively expensive.
Installed cost: $4 to $8 per square foot.

Ceramic Tile – This classic material resists moisture, wear, scratches, dents, and stains. Tiles can crack and grout can stain, and the hard surface often causes dropped cups and dishes to break more easily. Tile can be floated without the use of cement and grout, but that makes replacing cracked tiles even more difficult. Installed cost: $8 to $15 per square foot.
With so many types of hard flooring to choose from, you're sure to find a material to fit your lifestyle and your budget. Once you've selected your material, it's important to choose a style that's fashionable yet has
classic staying power.

Wood-look flooring – Wood-look tile, vinyl and laminate will continue to trend as products improve in performance and appearance while offering more durability and a more affordable price tag than hardwood.

Wide plank flooring – Floor boards five inches or more in width are considered "wide plank." These wide planks are a throwback to rustic cottages and colonial-era farmhouses, the wide planks also make rooms
look bigger. Longer and wider planks are rising in popularity as modern technology, and a variety of material choices, makes them more readily available and affordable.

Blonde flooring – Bright blonde wood and wood-looks are a new trend that is making spaces seem larger and lighter. Much like wall color, floor color can alter the perceived size of a space.

Gray flooring – Gray is a neutral staple in realty, on both walls and floors. Gray floorcoverings are still new enough to be trendy but will soon become a classic.

There are plenty of different, unique options trending that will likely stick around for years to come, which means your possibilities are endless. If you want something trendy that will last for the long haul, try going for large plank, blonde or gray wood/wood-look flooring.
Are you thinking about selling and you're wondering if new floors are a must before your home goes on the market? Email us at info@lizmoore.com and we can help!