One of Williamsburg/York County's favorite neighborhoods is Queens Lake, conveniently located just off the Colonial Parkway between Yorktown and Williamsburg. Homes for sale in Queens Lake range from $275,000 to $675,000 as of this writing, ranging from just over 1800 square feet to over 6500 square feet.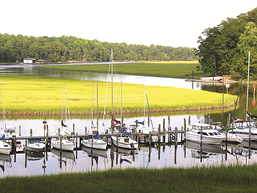 Fresh water 58 acre Queens Lake is over a mile long and accommodates hand powered or
electric small boats for fishing and recreation. Princess Pond is an arm of the lake, and both bodies of water are private and restricted for the membership of the Queens Lake Community Association.
There are ramps for boat landings for the lake and also the creek. Queens Lake marina on Queens Creek has 19 covered and 57 open boat slips, each with electric and water hook-up. The marina's location provides direct access to the York River and the Chesapeake Bay. In addition to the docks, there is a charming gazebo where you can sit and enjoy the wetlands and the creek.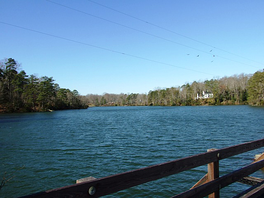 Properties for sale in Queens Lake with vistas of the lake do come on the market from time to time. They are often older properties that need updating (and in some cases, major remodeling), which offers the opportunity for some very affordable property with spectacular waterfront views. Financing programs such as 203k loans afford buyers the ability to roll the remodeling expenses into the mortgage, which means that you can create your dream home at a very appealing interest rate.
Get the Scoop on new Queens Lake listings, or send us an email at liz@lizmoore.com and I can recommend a Queens Lake specialist to show you around the neighborhood!