What is an "SRES?" That's a great question! SRES stands for Seniors Real Estate Specialists, who are local REALTORS (here in Williamsburg, Richmond, and the Virginia Peninsula) uniquely qualified to address the needs of home buyers and sellers age 50+. The SRES Council of the National Association of REALTORS awards the SRES designation to those agents who have successfully completed an extensive education program. Liz Moore & Associates' Senior Team has a number of REALTORS who hold the designation of SRES.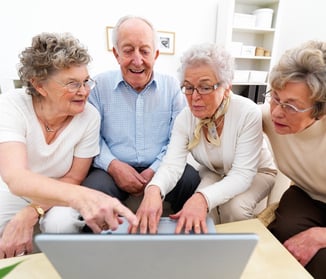 SRES REALTORS have demonstrated the necessary knowledge and expertise to counsel clients age 50+ through major financial and lifestyle transitions involved in relocating, refinancing, or selling the family home.
Seniors often have a more complicated set of needs than their younger counterparts when it comes to real estate transactions. Accordingly, for older adults making home buying, selling, or financing decisions, there are many benefits of working with a senior specialist.
Here are just a few examples: SRES agents have lots of experience with downsizing. Selling the family home can be extremely challenging, if mom and dad have lived in the same place for 30+ years. Seniors often accumulate a wealth of "stuff" and disposing of it can be both physically and emotionally challenging, not to mention overwhelming. An SRES is armed with many resources to help mitigate the stress of this task, and has plenty of experience in this area.
Another common challenge faced by many seniors who are selling their family home is that they haven't updated in many years. Outdated kitchens and baths, carpet and wallpaper that is out of style, and other similar issues can be overwhelming and hard for the prospective senior seller to understand. Again, a compassionate SRES can guide them through making wise financial decisions about the cost to upgrade versus simply pricing the property to sell "as is."
SRES agents are also up to speed in senior friendly financing options. Everything from how to leverage pensions, IRA and 401k accounts, to helping their senior clients pick out the right resource for a reverse mortgage product. Because these types of loans are unique, few REALTORS are qualified to give advice; an SRES agent can help older clients steer clear of loan schemes and scams.
When it comes to choosing a new place, SRES agents are well versed in the range of 55+ communities, as well as local senior housing communities. For first time retirees, it is extremely helpful to consider homes that will "age" with them – in other words, practical floor plans and options such as first floor bedrooms and potential caretaker suites that can be adapted to meet their needs as they grow older.
Are you look for an SRES REALTOR? Email us at concierge@lizmoore.com, or click below, to meet with a Senior Specialist!
Are you interested in hot real estate topics, tips and trends?
Click below to subscribe to
our blog
!