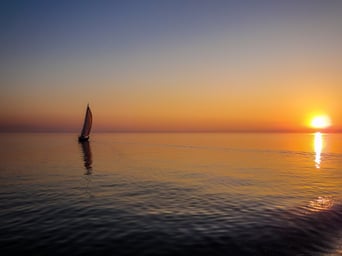 By Susan McFadden
Many visitors first discovered the Northern Neck when they moored their boat at one of the many marinas that inhabit the 1,100 miles of coastline or cruised into the marina at the Tides Inn in Irvington, the region's premier resort, which opened its doors in 1947. The 47-room resort was the brainchild of local residents E.A. Stephens and his wife, Ann. They purchased a 25-acre farm with extraordinary water views and, through a leap of faith, built an inn that welcomed families and couples with room rates starting at $14 per night.
Today, the Tides Inn is still the regional premier resort drawing guests from across the world, the USA, and the Mid-Atlantic. According to their website, the Tides Inn "…continues to introduce new guest experiences, inviting visitors to create their own All-American traditions along the Chesapeake Bay.
Under the management of Enchantment Group, refreshed public and meeting spaces were unveiled in 2019."
Although the nightly rates are considerably higher than in 1947, the accommodations and resort amenities rival those located in more well-known destinations.
One of many notable perks for Tides Inn guests is the Premier Sailing School that operates from the resort during the summer months. Premier Sailing's owner Arabella Denvir and her husband Phil
founded the school in 1998 after a long and accomplished sailing history that included years of cruising and racing in Ireland and England's waters. They also founded the Malta Sailing School and Malta Young Sailors Club before bringing their business model to the lower Northern Neck. Phil passed away
in 2011, but Arabella and her seasonal staff of experienced sailors continue to introduce children, couples, and families to the joy of sailing through personalized instruction.
Classes are not limited to Tides Inn guests but are open to the public. Premier Sailing also offers its Junior Sailing Program to non-members through the Rappahannock River Yacht Club.