Inspired Design
Stephen Alexander Homes offers a fresh approach to luxury living in The Point on Fisher's Creek. They combine charming architectural style from the past with modern efficiency and open-concept floor plans.
Stephen Alexander Homes has a partnership with a local architecture firm to create designs that are inspired by architecture from the late 1800s to the early 1900s including Colonial Revival, American Craftsman, Victorian, and Four Square styles. Stephen Alexander Homes' designs are so beautiful, functional, and smart they've received over 100 accolades and awards including numerous Parade of Homes and Homearama gold medals. Their designs have recently received national attention and are now available throughout the United States.
The designs offered by Stephen Alexander Homes also focus on coastal lifestyles. With Newport News surrounded by rivers and so close to the Chesapeake Bay and Atlantic Ocean, these floor plans are an extension of the easy, comfortable, and often outdoor lifestyle residents in this area are seeking. Stephen Alexander Homes offers luxurious screened porches with advanced window systems that provide use of the space nearly year round. They also offer expansive porches in the front and back of their homes.
State-of-the-Art Innovations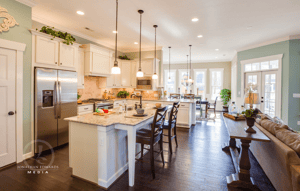 Stephen Alexander Homes uses synthetic material for the exterior components of their homes to ensure durability, beauty, and easy maintenance. The composite and cement materials still have the same attractive aesthetic of wood but they're more enduring. Homeowners don't have to worry about rotting, warping, or bugs with these materials.
These gorgeous homes are as efficient as they are easy to maintain. Every home offers radiant barrier roofing with LP Tech Shield. This technology reflects 97% of the sun's radiation resulting in lower attic temperatures by 30 - 40 degrees in summer. Stephen Alexander also uses the Zip System Sheathing and Tape for extra protection against air leakage and possible moisture damage within your walls. Low-E windows come standard on every home as well. These features all combine for comfortable living and lower energy costs.
Stephen Alexander Homes enhances their historical designs with modern open floor plans designed to maximize space and function. They include 10' ceilings on the first floor, 9' ceilings on the second, and an abundance of windows allowing the natural light to fill each home. Today families spend most of their time in the kitchen and the family room, so Stephen Alexander Homes dedicates the most space to these two rooms and doesn't waste square footage on outdated rooms that homebuyers don't use.
Stephen Alexander Homes also brings a fresh take what is included with a home purchase. "We bring the 'yes it's included' mindset to home construction," said Stephen. Giant tiled showers with dual showerheads, granite countertops, extended crown molding, hardwood floors throughout the majority of the first floor, and custom-milled built-ins are some favorite included features in every home.
Full gourmet kitchens are included in every Stephen Alexander Home, many with multi-use 10' islands for eating, entertaining, and display. Other signature features include hidden decorative hood blowers and lazy Susans, built-in microwaves and refrigerators, and pullout trashcans.
"We want to go over the top and make sure our customers are getting extra value in the structure, design, and finishes of their home. We are raising the bar on what homebuyers should expect." Their award winning interior designer helps clients select everything going into their new home from the exterior fiber cement siding color all the way down to cabinet door knobs.
A Passionate Team
What sets Stephen Alexander Homes apart, aside from their unique historic designs and included luxury finishes, is their personal attention and customer service. Although popular and growing, Stephen Alexander Homes is a family owned and operated local company. One of the three Principals is available to meet with each client to learn their needs and preferences. They answer any questions and offer their experience and expertise to help guide each client through the process. Stephen Alexander Homes is a company that provides personal, one-on-one attention with every high-quality custom home they build.
Stephen Alexander Homes is proud to be a St. Jude Children's Research Hospital homebuilder. Stephen Alexander Homes has raised over $7 million dollars for St. Jude Children's Hospital over the years. "We do a lot of charitable things as a company but St. Jude is by far our favorite because every dollar we put into the St. Jude Hospital effects a child's life and often makes the difference between life and death," said Stephen. Stephen Quick has eight children of his own, making this cause especially near to his heart.
Visit the Stephen Alexander Home model in The Point on Fisher's Creek and experience how a new construction house can feel just like home. Click below to download the price list.