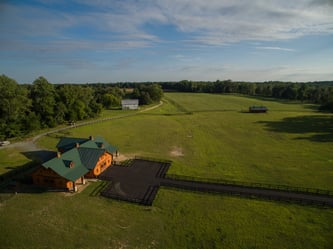 Liz Moore & Associates is delighted to announce that it has been selected by NK Homes as the exclusive marketing agency for Madison Estates in Hanover. Team Hensley will be the exclusive sales team representing the community.
Madison Estates is a luxury development consisting of 1-2 acre, open lots. An equestrian lover's delight, a custom stable is situated in the center of the development. Located nearby are horseback riding and walking trails and large community spaces. Neighbors enjoy seclusion, yet they are only minutes from Richmond.
Madison Estates is in its final phase with only 10 homesites remaining. "When you buy in Madison Estates, you're not only buying a great piece of land, you're buying great peace of mind and serenity. You can't put a price tag on that," says Catie Burnett, New Homes Coordinator for Liz Moore and Associates. "With their upscale style and elegant craftsmanship, NK Homes has really captured the heart of Hanover in this community. It's truly a rare opportunity."
Learn more about this special new community at www.lizmoore.com/madisonestates. For more information about Madison Estates or to arrange a visit, contact Jana Mills at 804-909-9570 or email janamills@lizmoore.com for a brochure.