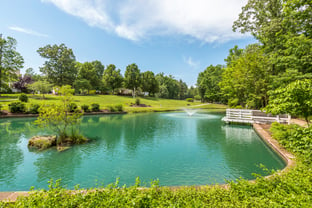 Hampton Park masters outdoor living while located in the heart of convenient Chesterfield County. Enjoy all the benefits of living 20 miles from downtown Richmond and the dining and entertainment selections in the suburbs, but you can step out your front door to miles of walking trails and outdoor amenities.

Hampton Park is centered around families, with Winterpock Elementary School and Swift Creek Middle School located within the community, and high schoolers attending the nearby Cosby High School. Chesterfield County Public Schools are nationally ranked and recognized, and living in Hampton Park allows students access to a premiere education.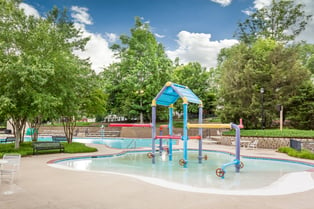 Hampton Park has countless amenities for residents to enjoy and take advantage of. With two water parks, separate biking and walking trails, a putt-putt golf course, Celebration Park, and more, Hampton Park is the ideal community for those who love activity. Residents can host festivals or parties by renting out the Hampton Park pavilion, as well. In the summertime, residents can relax poolside at the luxurious swimming complex, including two pools, water slides, a kids area, and lap lanes. Not only are the facilities impeccably maintained, they allow Hampton Park residents a luxurious place to relax.

One of the major benefits of Hampton Park living is the emphasis on local business and community development. The Swift Creek YMCA is located within Hampton Park, which provides easy access to healthy lifestyles and recreation for the whole family. Celebration Park in Hampton Park also provides a great outdoor place for the family. On the Hampton Park website, the community features resident-owned businesses. This sense of dedication to local business allows Hampton Park residents to support each other and grow their companies. This mentality creates a family atmosphere among residents unlike other communities in the area.

Hampton Park is every child's dream neighborhood! Not only is it filled with families and kids of all ages, Hampton Park places an emphasis on activities for the whole family. The Funhouse is a space unique to Hampton Park, and allows dedicated areas for children and their parents to come, play, and live like kids! This space includes playgrounds, putt putt, soccer fields, and more. Every summer, Hampton Park hosts a Summer Sports Camp, where kids can spend the day, be outside, learn a new sport, or develop their skills in one they already play! Kids can also be involved by swimming for the community swim team, the Hampton Park Hammerheads! This is a great way for kids to spend time with their friends, be outside, and stay active!
For more information, click below to download our Hampton Park neighborhood guide.