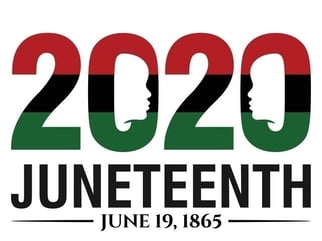 On January 1, 1863, President Lincoln declared "that all persons held as slaves within said designated States, and parts of States, are, and henceforward shall be free." Lincoln sincerely believed this to be "to be an act of justice" and "warranted by the Constitution," invoking "the considerate judgment of mankind, and the gracious favor of Almighty God." But his order was not delivered in Texas until June 19, 1865 – some two and a half years later – when Union troops arrived to take control of the state.
(image source: patch.com)
Now generally referred to as "Juneteenth" for the day General Granger read the order publicly, it is celebrated every June 19 to commemorate the emancipation. Two days ago, in Executive Order 66, Gov. Ralph Northam encouraged "all Virginians to think about the significance of this day. It was significant in 1865 because it marked the end of human bondage for African Americans in the United States. But our recognition of Juneteenth now signifies that we understand its importance to all Americans. Juneteenth is not African American history. It is American history. It is as woven into the fabric of our great country as is the celebration of independence on July 4th . And it should be so celebrated."
You can read the history here, the full transcript of the Emancipation Proclamation here, and Gov. Northam's order here.
So, happy Juneteenth everyone, especially to our African American agents, clients, and colleagues!