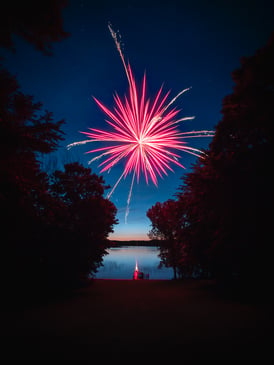 By: Lauren Cummings
Parades, fireworks, and community galore! The Northern Neck rallies the community together for a variety of parades and celebrations to honor our nation's Independence Day.
Reedville Presents:
Reedville Fisherman's Museum Independence Day Celebration July 1, 2023
Join the town of Reedville and attend the Independence Day parade on Main Street at 3:00 PM. Leading up to the parade is the Firecracker 5k, so lace up your running shoes to support the Reeville Fishing Museum! To wrap up the full day of celebratory activities, fireworks are scheduled for 9:30 PM. See the full schedule for more details and information.
Irvington Presents:
Irvington 4th of July Parade 2023
The Irvington July 4th parade is back for 2023! This town-sponsored event is such a blast for the whole community – bring on the golf carts and vehicles decked-out in patriotic displays! Sign up to participate in the parade, or cheer on community members as they head from King Carter Drive to Tavern Road on the Commons. You can find out more information on their website, where they have included a birds-eye view of the parade route.
Colonial Beach Presents:
2023 Independence Day Celebrations
Can you think of a cooler place to celebrate our nation's independence than President George Washington's birthplace? Come out to Colonial Beach for a full day of patriotic festivities: a parade, races, a picnic, kayaking, live bands, and more! After a couple of years of holding off on fireworks since 2019, the grand display of fireworks is back and scheduled for 9:00 PM at the Boardwalk. Colonial Beach is bustling with fun and celebrations on July 4th – you won't want to miss out this year!
Sources:
"4th of July in Colonial Beach." Beach, www.colonial-beach-virginia-attractions.com/4th-of-july.html.
The Greater Reedville Association. "Schedule of Events." The Greater Reedville Association, rfmuseum.org/independence-day-events.
Visit Irvington VA. "The Irvington July 4th 2023 Parade Is Back!" Visit Irvington VA, visitirvingtonva.com/4th-july-parade-info.