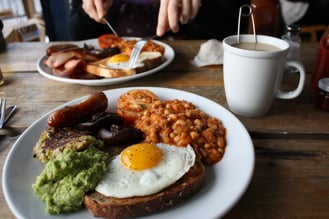 Virginia.org recently published a list of the 13 best brunch spots in Virginia. The list contains spots known for quality food, service, atmosphere...and maybe most importantly, quality cocktails! Restaurants from Northern Virginia down to Virginia Beach are known to be crowd pleasers, and a few are even located in our backyard!
Venture Kitchen & Bar—Hampton
Sunday 10am-2pm
At Venture Kitchen & Bar, brunch is serious business. Not only does the restaurant have a regular brunch menu that is reliably tasty, but they also have a rotating menu that changes every week so that you can try something new. When it comes to Sunday brunch cocktails, you'll find some "old faithfuls" like mimosas, but there are many intriguing options as well, like the French 75 and the Queen's Cousin.
Local Favorites: Fried Eggs Benedict, Orange Blossom Cocktail, Corned Beef Hash
Millie's Diner—Richmond
Saturday 10am-3pm, Sunday 9am-3pm
This popular Richmond spot has been around for over 25 years, but their tasty brunch menu never gets old. On Saturday and Sunday mornings, Richmond residents flock to Millie's Diner for one of the best brunches in the city. Although the wait can sometimes be over an hour to get in, the food is more than worth it. Plus, the bartender will fix you up with mimosas or Bloody Marys that will make the time seem to fly by.
Local Favorites: Devil's Mess, Huevos Rancheros
The Jefferson Hotel—Richmond
Sunday 10:30am-1:30pm
If you're planning on eating brunch at The Jefferson Hotel, make sure you are ready to "tuck in", as they say. Sunday Champagne Brunch at this historic Richmond location has seemingly endless tables of some of the finest food imaginable, including a platter of smoked salmon and a full seafood raw bar, an impressive ham carved to order, an omelet station manned by several chefs, a lavish dessert display, and so much more (Including bottomless mimosas and coffee!). We could go on and on about this brunch, but you need to experience it yourself to understand why every Richmonder will recommend The Jefferson as a must-visit brunch destination.
Local Favorites: Raw Seafood Bar, Omelet Station
Next time you find yourself asking, "where should we eat brunch", consider one of these local favorites!

Great restaurants...just another reason why we Love Where We Live!!!
Are you interested in hot real estate topics, tips and trends?
Click below to subscribe to our blog!