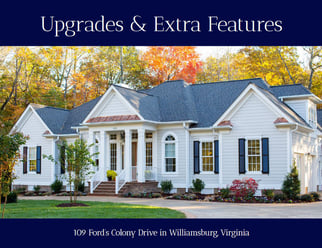 The Southern Living Showcase Home, located at 109 Ford's Colony Drive, is loaded with impeccable upgrades and extra features and is now available for a reduced price at $850,000.
Click Here to Download the Brochure of Extras
Inspired by the pages of Southern Living magazine, the award winning team at Wayne Harbin, Builders is building "Harrison Place," a 3,500 square foot, fully furnished and decorated show home, outside the gate on Fords Colony Drive. Preferred subcontractors are featuring the latest and greatest trends in home design, interior finishes, and home electronics. Unleash your inner chef with on-site cooking demonstrations in our fabulous kitchen, discover imaginative landscaping and outdoor space ideas, and find design inspiration and style tips in every room!
For more information on the Harbin Southern Living Showcase Home in Fords Colony or building your dream home in Williamsburg, call our new homes team at 757-645-4106 or email us at newhomes@lizmoore.com.
Click below to download our brochure that will walk you through these fine features - everything from lighting, to flooring, to electronics, and much more!